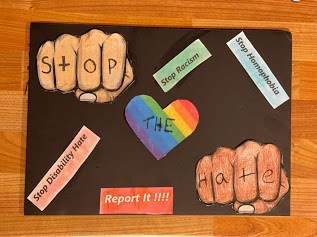 Young people illustrate the power of art in the battle against hate crime
A special competition designed to highlight and raise awareness of hate crime among young people has been voted a success.
Winner, 11-year-old Mya, produced a striking poster with the slogan 'Stop the Hate' urging people to report disability, racism and homophobia.
And runner-up Maddy Marlow, 13, created a colourful artwork referencing the Black Lives Matter campaign and the number of hate crime offences reported to police last year.
Mya said: "It is really nasty. I have noticed a lot of young people are being targeted and it is all about talking to them.
"At the same time, a lot of people are not aware of what is going on in people's lives. It could be really affecting them and causing them to have bad thoughts."
Organised by the West Oxfordshire Community Safety Partnership (WOCSP), the aim or the competition was to create a piece of work to inspire and educate with participants learning about the issues facing people who suffer hate crime and discrimination.
Emmylou Brossard, Safer Communities Project Officer ​at WOCSP member organisation West Oxfordshire District Council, said: "We were struck by Mya and Maddy's understanding of hate crime and how passionate they are about tackling discrimination generally.
"It is so important that young people have a voice on vital issues such as this and we have been inspired by the insight and talent among West Oxfordshire young people this competition has revealed."
Mya's first prize was a £75 voucher which she can use at local retailers while Maddy has been awarded a £50 voucher.
The West Oxfordshire Community Safety Partnership (WOCSP) brings together local organisations including Thames Valley Police, Oxfordshire County Council, voluntary and community sector groups and housing organisations.
Partners share a goal of creating safer communities in which to live, work and visit. They aim to achieve this by pooling skills, knowledge and techniques to prevent and reduce crime, disorder and fear of crime.
Superintendent Emma Garside, Commander for Cherwell and West Oxfordshire local policing area, said: "I would like to congratulate the winners for their hard work and creativity."
Contact Information
West Oxfordshire District Council Communications Team