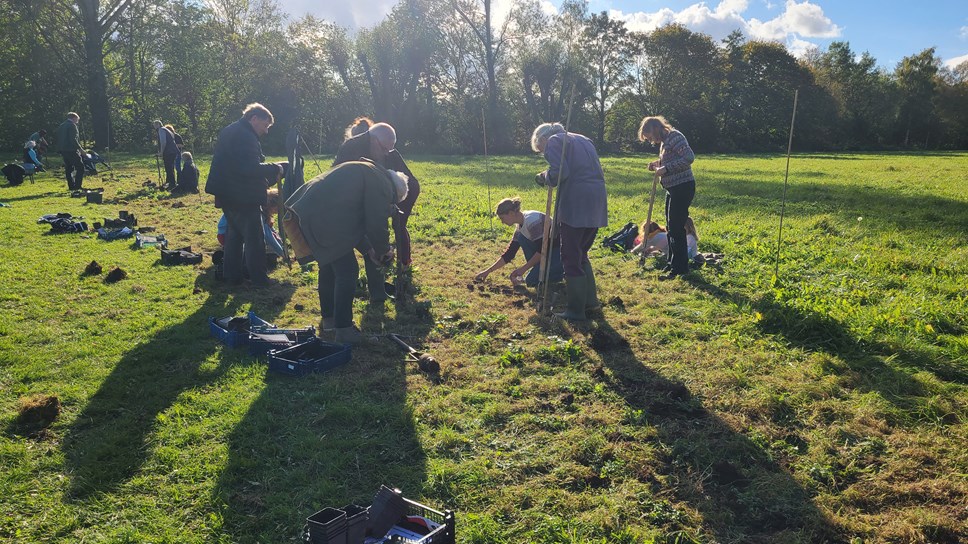 Wildflower meadow is enhanced by volunteers to bring wildlife and colour to Eynsham
Residents in Eynsham will be treated to an array of colour next spring after 1,000 wildflowers were planted by an enthusiastic team of volunteers in Eynsham. West Oxfordshire District Council has funded the planting of the wildflower meadow bulbs, plug plants and seed through the UK Shared Prosperity Fund as part of its commitment to enhance green spaces within the district.
Thirty volunteers, led by Catriona Bass from Eynsham's Nature Recovery Network, turned out to help last Sunday in a planting session at Carnival Meadow, an area of Eynsham's playing fields owned by the town council, to provide colour and bring wildlife to the space. Yellow rattle seed, devils bit scabious and Snakeshead fritillary bulbs are among the species of wildflower that were planted and will provide colour for visitors and a much-welcome nectar source to local bumblebees, moths and butterflies.
Andrew Prosser, Executive Member for Climate and Biodiversity said, "I am delighted that we have been able to commit £6,000 to biodiversity projects across the district.
"By funding these planting sessions, we continue to invest in the environment, a priority for the Council, to see green spaces thrive for this and future generations. Residents can see the results of re-wilding these sites in the spring when these wildflowers begin to grow."
West Oxfordshire District Council is working with Wild Oxfordshire to deliver this UK Shared Prosperity Fund across three Town and Parish Councils across the district
Imogen Parker from Wild Oxfordshire who is managing the project said, "We believed it would be valuable to work with local communities on demonstrating action 'on the ground', and collate a series of case studies that other town and parish councils can draw inspiration from.
"This will both demonstrate best practice projects and inspire other parish and town councils to implement simple methods to feed into the nature recovery across the district, using existing and updated guidance".
Asthal Parish Council and Filkins and Broughton Poggs Parish Council will also benefit from the funding."
West Oxfordshire District Council has also installed two brand-new wooden footbridges at Deer Park South in Witney with further developments planned for the area. The new footbridges will provide a safer and more accessible route across Colwell Brook. Funding for these exciting additions comes from the UK Shared Prosperity Fund.
ENDS
Contact Information
West Oxfordshire District Council Communications Team
Notes to editors
West Oxfordshire District Council has been allocated funding from the UK Shared Prosperity Fund (UKSPF) as part of the government's Levelling Up Agenda which funded this project. Three Town and Parish Councils have been selected to receive £2000 each for nature recovery projects. Asthall, Filkins and Broughton Poggs, Eynsham were the selected locations for this phase of the project.