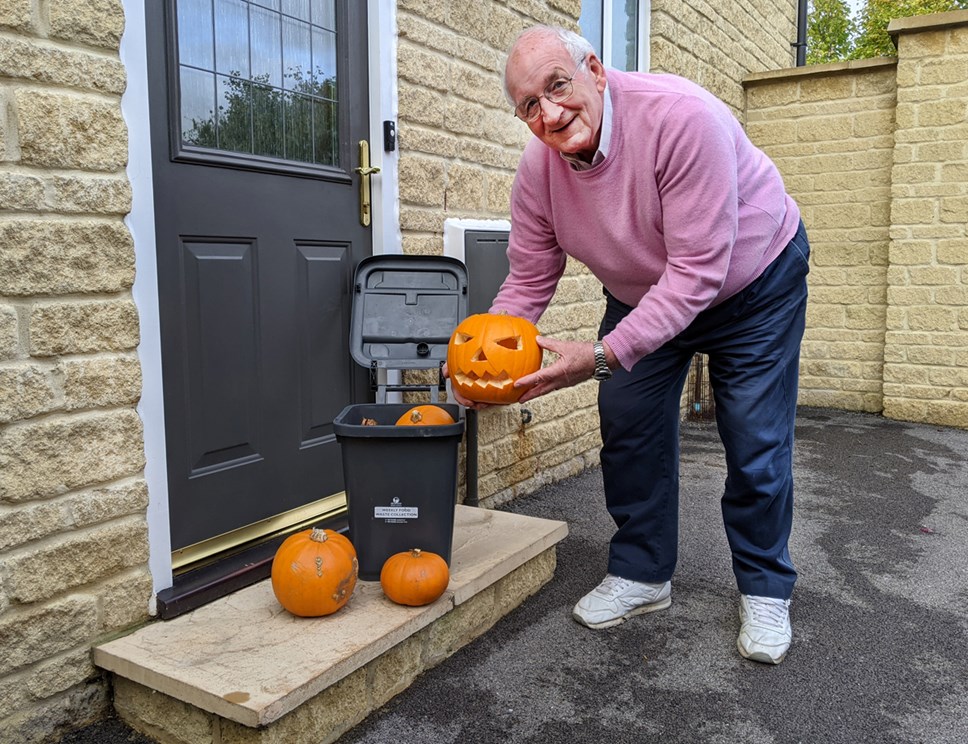 West Oxfordshire residents urged to squash food waste this Halloween as climate summit gets underway
With COP26, the United Nations' global conference on tackling climate change, opening on 31 October, West Oxfordshire District Council is urging residents to compost, recycle or better still reuse their Jack O'lanterns once this year's Halloween festivities are over to help reduce food waste and greenhouse gas emissions.
In Oxfordshire, food waste still accounts for 20% of all waste going into household rubbish bins although it could have been easily recycled.
Councillor Norman MacRae, Cabinet Member for Waste at West Oxfordshire District Council said:
"While West Oxfordshire residents have a high rate of recycling, it is believed that each household in the county will dispose of 120kgs of food that could have been eaten each year. With Halloween celebrations taking place in just a few days, we want to encourage everyone to use up their pumpkins once the festivities are over to cut down on unnecessary food waste.
"When food goes unused, all the energy invested in its production, throughout the supply chain, is wasted. COP26 is bringing together world leaders to discuss actions which can be taken to slow down climate change, but there are positive steps we can be taking to help right here at home to help our planet. With 30% of global greenhouse gas emissions due to food production, making sure we only buy what we need and making the most of any leftovers has never been more vital."
Some food waste - such as vegetable peelings, bones and eggshells - is unavoidable but can still bring carbon benefits by creating renewable energy if recycled using the District Council's weekly food waste service.
West Oxfordshire's food waste is transported to a local anaerobic digestion facility in Cassington. Once treated, a biogas is created, which is used to produce electricity for the grid to power homes; any residual liquid is used as fertiliser, putting essential nutrients back in the ground so the growing cycle can start all over again.
Residents wishing to recycle their Jack o' lanterns are reminded to reduce larger pumpkins so that they fit inside the food waste caddy, removing any tea lights and wax first. Home composting is an even better option when it comes to the environment, helping save on transport miles and emissions.
Householders who need a food waste caddy can pick one up from the town centre shop in Welch way or by ordering online at www.westoxon.gov.uk.
For those in need of inspiration on how to use up their leftover pumpkin, the national Love Food Hate Waste campaign has plenty of recipes as well as food storage tips to help food last for longer. Visit www.lovefoodhatewaste.com for more information.
Contact Information
West Oxfordshire District Council Communications Team
Notes to editors
It is estimated that 35 million pumpkins will be purchased this year and research suggests almost half of these, around 14.5 million, will go to waste (source: hubbub.org.uk). A survey by Hubbub revealed that 3 in 5 pumpkins bought for carving were eaten last Halloween (2020). In 2015 only 1 in 3 were eaten. The survey also showed that those households which celebrate, carve an average of just over two pumpkins each.
Halloween is now the third biggest largest retail event in the UK, falling only behind Christmas and Easter.


According to the Waste and Resources Action Programme (WRAP), Halloween is responsible for eighteen thousand tonnes of perfectly edible pumpkin ending up in rubbish bins across the country – enough to provide a bowl of soup for each person in the UK.


Each household in Oxfordshire will cause 120kg of edible food waste (the equivalent of 35,000 tonnes across the county). 120kg is the equivalent of each household throwing away 1,000 bananas or 2,500 slices of pizza (source: Oxfordshire Recycles)


Oxfordshire will create more than 50,000t of food waste. Of this, 25,000t is collected for recycling.
Photo shows: Councillor Norman MacRae, Cabinet Member for Waste at West Oxfordshire District Council