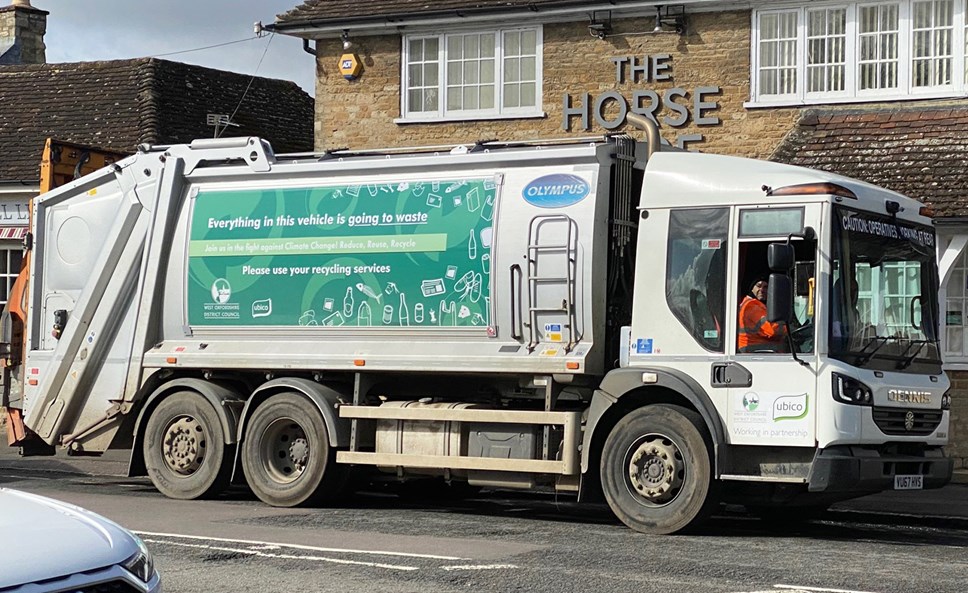 West Oxfordshire residents to get improved waste service experience
Residents in West Oxfordshire will soon see a more efficient and effective waste collection service following a decision by West Oxfordshire District Council's Cabinet to invest up to £140k in a new 'in-cab' technology system.
The specialist software system will be retro-fitted to the Council's entire fleet of refuse, recycling, food and garden waste vehicles and will help reduce the number of collections being missed as well reducing the fuel used and cutting vehicle carbon emissions. Greater efficiencies in service delivery will bring projected annual savings of £50,000 per year from the Council's contract with its waste service delivery partner, Ubico.
A West Oxfordshire District Council spokesperson, said: "We will be working with Ubico to implement the in-cab system across our waste collection fleet, which will go live later this year. The project is just one example of how we are working in partnership to ensure our waste services are fit for the future and how innovation can better the customer experience.
"Crews will be able to record problems as soon as they encounter them and this information will be relayed back in near real time to both Ubico and the Council's customer services team.
"The waste sector is still recognised as a high risk industry and the in-cab system will make collecting safer too. Locations near to schools where extra precautions must be taken and potential hazards - such as blind corners or low bridges - can be easily added to the collection schedule information, making the working day safer for crews, pedestrians and road users alike."
Utilising GPS technology, the new system will enable crews to follow a map of their collection routes, reducing the need for local knowledge and allowing drivers unfamiliar with the area to complete the round without unnecessary delays or disruption to the householder.
Issues encountered whilst on the round, including reasons for why a collection has not been able to take place, can be logged directly against individual properties and any special collection requirements flagged in advance of the crews' arrival.
With 45% of all District Council CO2 emissions generated from vehicle fleet and transportation, the new in-cab system should bring environmental benefits through the better routing of rounds and crews being able to return for missed bins whilst still working in the local vicinity, resulting in less miles needing to be travelled.
The anticipated CO2 savings will contribute to the Council's declaration to reach a carbon-neutral target by 2030.
Contact Information
West Oxfordshire District Council Communications Team
Notes to editors
The in-cab system will be procured from software specialist company, Yotta.