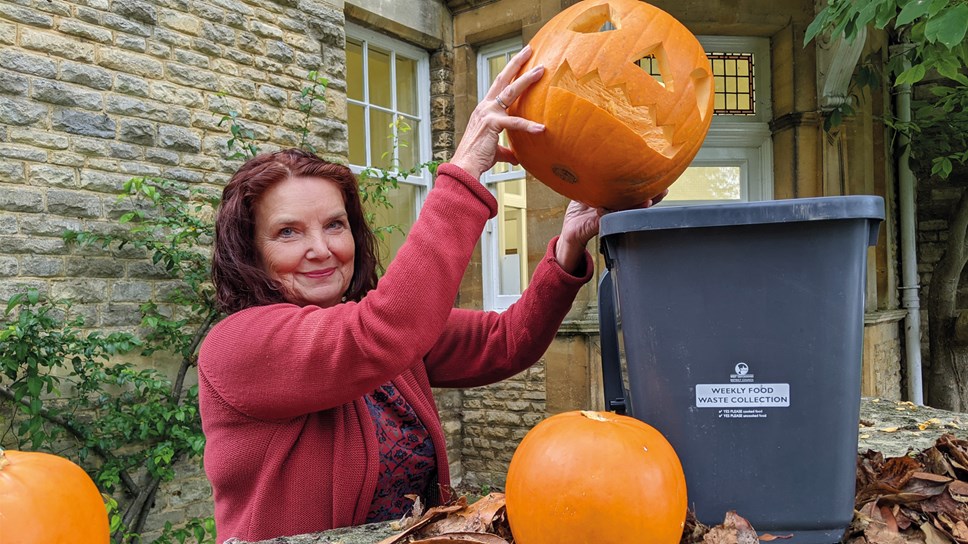 West Oxfordshire residents encouraged to reduce scary amount of Halloween waste
With over half of this year's 30 million Halloween pumpkins likely to go to waste, West Oxfordshire District Council is encouraging residents to reduce, reuse and recycle ahead of next week's spooky celebrations to limit the impact on the environment.
According to UK charity Hubbub, 15.8 million edible pumpkins worth £26.7 million pounds will be thrown away this year in the UK - enough to rustle up 95 million meals - while 2 out of every 5 'trick or treat' costumes will only get worn once, fuelling the growing problem of textile waste.
Councillor Lidia Arciszewska, Executive Member for Environment at West Oxfordshire District Council, said: "Families, friends and neighbours will be getting together to celebrate Halloween over the coming days. But with the UK set to throw away many thousands of tonnes of perfectly edible pumpkin during the festivities, we're asking residents to consider the environmental impact associated with this time of year and look at how they can enjoy taking part more sustainably.
"Halloween is a time when pretty much anything goes, so there are plenty of opportunities to get creative. With every part of a pumpkin - bar the stalk - able to be consumed there are loads of seasonal recipes to help people use up their leftovers and with many shop-bought 'wear them once' costumes made from polyester derived from plastic, homemade costumes made from old pieces of clothing are a more planet-friendly alternative.
"And if people still have pumpkin waste after the celebrations we're urging everyone to keep waste out of the rubbish bin. Pumpkins make a great addition to a home compost bin or can be recycled using the weekly food waste service instead."
With the UK continuing to embrace all things Halloween, the amount spent on this year's festivities is forecast to exceed £1 billion for the first time.
Both raw and cooked foods, including pumpkin pulp, seeds and flesh, can be recycled using the District Council's weekly food waste collection service. Larger pumpkins need to be reduced in size so that they fit inside the food caddy, removing any tea lights, decorations and wax first.
Householders can order a new or replacement food waste caddy online at: https://www.westoxon.gov.uk/orderabin or collect one from West Oxfordshire District Council's Welch Way office in Witney. Kitchen caddies can be lined with newspaper or unwanted plastic bags, such as old carrier bags and used bread bags. Compostable bags can still be used if residents wish.
Oxfordshire residents can buy home compost bins through Oxfordshire County Council's partner, Get Composting. Bins start from £25 with a Buy One Get One Half Price offer for households buying two 220-litre or 330-litre bins. Delivery charge applies. To order a bin simply call 0844 571 4444 or buy online at: www.getcomposting.com.
Recipes including pumpkin seed brownies, pumpkin risotto, and spicy pumpkin soup can be found on the Love Food Hate Waste website: www.lovefoodhatewaste.com.
Contact Information
West Oxfordshire District Council Communications Team
Notes to editors
Photo shows: Councillor Lidia Arciszewska, Executive Member for Environment, West Oxfordshire District Council.