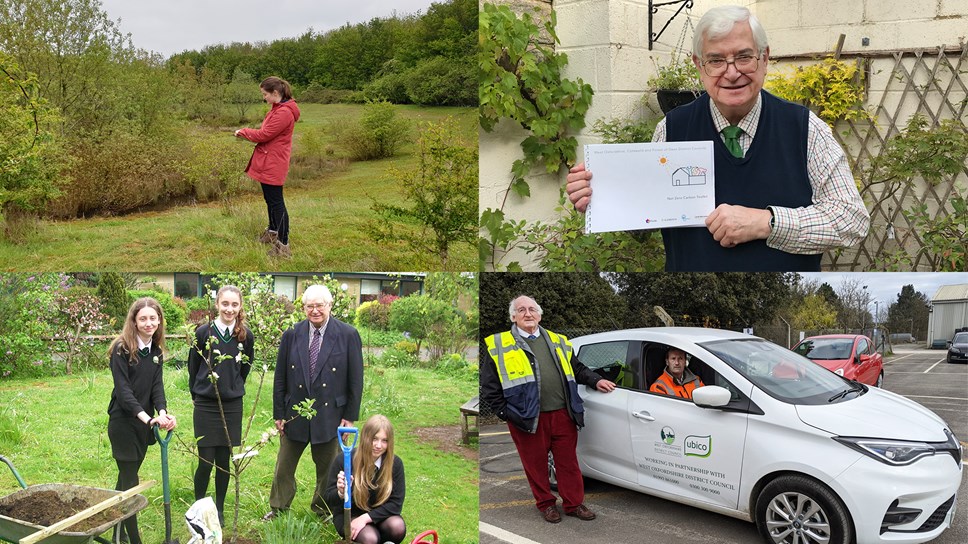 West Oxfordshire leading the way on tackling climate change
West Oxfordshire District Council is pushing forward with plans to tackle the climate emergency across the district, helping to reduce its carbon footprint and working with businesses and communities to protect the environment.
Over the past six months great progress has been made in a number of areas including supporting the roll-out of electric vehicles, work to make homes of the future zero-carbon and protecting local wildlife and its habitats.
Cllr David Harvey, Cabinet Member for Climate Change, said: "Over the past eighteen months we have made really good progress in our efforts to tackle the climate emergency, and especially in the past six months we have made some brilliant progress. However, we know there is still much more to do.
"In the short time since we declared a climate emergency we have invested in a team of specialists to lead the Council's response and we are now working hard to reduce our carbon footprint and plan for a future carbon-neutral West Oxfordshire.
"We have been recognised at a national level for our work to promote net zero carbon homes and I am really proud of what we have delivered so far."
West Oxfordshire District Council set out ambitious plans in February 2021 to tackle the climate and ecological emergency, prioritising the protection and restoration of natural ecosystems and the sustainability of new homes.
In response to the plans, the Council has recruited a Biodiversity & Countryside Land Management Officer who is responsible for creating spaces where wildlife can thrive in Council's parks and open green spaces, and a Sustainable Planning Specialist who will make sure that all new housing developments meet the highest sustainability standards, ensuring these are carbon neutral and reducing impact on the environment.
The Council's recently released 'Net Zero Carbon Toolkit' provides homeowners and those looking to build new homes with clear guidance on how to make a home carbon neutral. It has received national recognition with other organisations across the country looking to use the toolkit themselves.
In the space of encouraging more sustainable transport, the Council is supporting the introduction of electric vehicles by supporting the county-wide programme to install electric vehicle charging points across West Oxfordshire and running events to promote electric vehicles to those who may be cautious about owning one.
The Council is also working with local communities on their own plans, supporting local town and parish councils to develop their own climate plans.
Cllr Harvey said; "The response from the community to tackling climate change has been brilliant.
"In April we supported a virtual meeting of our town and parish councils to see what more can be achieved at a local level. I would encourage everyone to think about what they can do in their local area and to speak to their local council if they have any ideas.
"We also ran a climate art competition earlier in the year which had a great response from local young people who are keen that we continue our effort to protect the environment for their future."
The Council has also made good progress on making its offices and operations more environmentally friendly. The first electric vehicle was purchased this year to support the waste services and new software has been introduced for waste and recycling collection lorries which is due to reduce the miles travelled by collection vehicles and reduce emissions.
Cllr Harvey said; "As a Council, we have made a big culture change to put the climate emergency at the heart of all our decisions.
"We have work to do to make everything we do as a council carbon-neutral but it is a target we will continue to work towards alongside supporting our communities to do their part in tackling climate change."
Contact Information
West Oxfordshire District Council Communications Team
Notes to editors
The West Oxfordshire District Council heard a full report on the progress on climate actions at the full council meeting on 28 July 2021. The report can be read here.