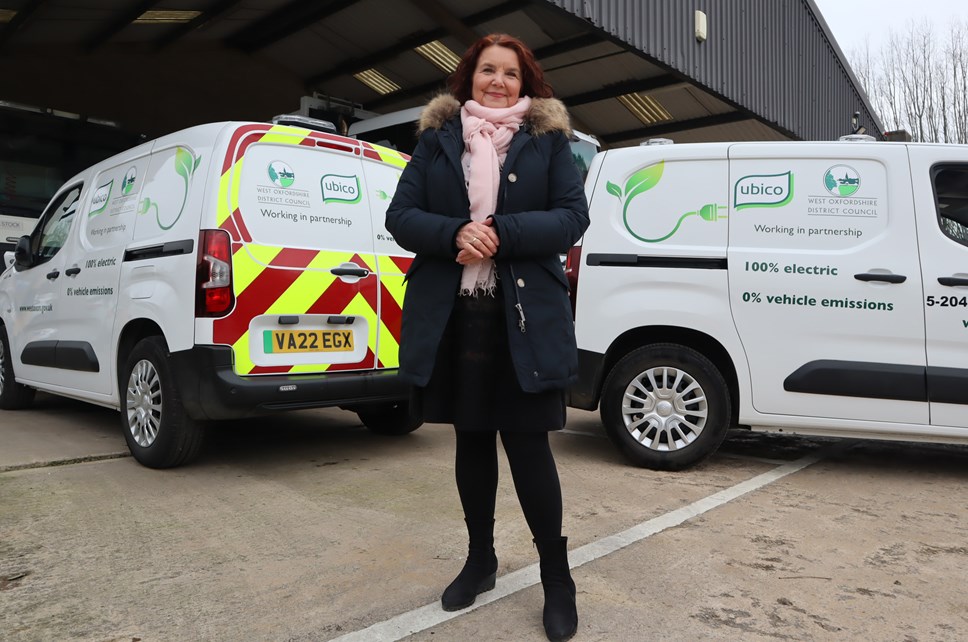 West Oxfordshire expands number of electric vehicles to cut greenhouse gas emissions
West Oxfordshire District Council has taken delivery of three battery electric Toyota Proace utility vans as the authority continues to look at opportunities to reduce the carbon emissions of its daily operations, including within the waste, recycling and street cleansing service, as part of its net-zero carbon commitments.
The vans are the latest additions to the Council's steadily growing fleet of fully-electric vehicles. Each van is powered by a 50kw lithium ion battery and can achieve a range of 120 miles from a single charge, subject to driving conditions and local topography, and has zero tailpipe emissions helping to improve local air quality, aiding better health. Collectively, the vans are expected to save in the region of 100 tonnes of CO2e each year.
The Council is set to further expand the number of electric powered vehicles it owns with the purchase of two zero emission street sweepers which are due for delivery in late spring to replace two 'end of life' diesel equivalents.
Councillor Lidia Arciszewska, Cabinet Member for Environment at West Oxfordshire District Council, said: "Our commitment that Council activities will be net-zero by 2030 is an ambitious target which brings immense challenges. Around 45% of the District Council's total greenhouse gas emissions are the result of the vehicles used on the waste and recycling, street cleansing, and grounds maintenance contracts so it's crucial that we find the most sustainable ways to provide these services to residents. We need to continue our programme of investing in alternative-fuel vehicles if we are to succeed in reducing local air pollution and the emissions that contribute towards global warming."
"While we're proud of the progress that's been made, there's still a great amount of work to be done in terms of decarbonising the larger fleet vehicles. Working with Ubico and with the support of industry experts, we continue to monitor the latest advances in low-carbon transport, including electric and hydrogen, and the potential these evolving technologies offer for transitioning the heavier waste collection vehicles in the future."
The new utility vans will be used by Ubico staff on a daily basis, predominantly to support the street cleansing and grounds maintenance functions that the organisation carries out on behalf of the District Council.
Ian Bourton, Head of Fleet Operations at Ubico, said: "In addition to the immediate environmental benefits, electric vehicles typically have lower running and maintenance costs than an equivalent petrol or diesel model, adding up to long-term savings. To maximise the benefits we also look at how the vehicle is being driven and work with our staff so they adopt a more economic driving style and use techniques such as regenerative braking that feeds energy back to the battery."
Investing in electric vehicles is just one area the Council is pursuing to decarbonise its activities and those of the wider district to deliver on its corporate priority of "leading the way in protecting and enhancing the environment by taking action locally on climate change."
Recent projects include working with partners to provide electric vehicle charging points in District Council car parks and supporting those living in the district's most least energy efficient homes to access funding to install measures to improve energy performance and warmth, while a project still in the early stages, is looking at the benefits of adding solar panels to council-owned buildings to provide a source of renewable green energy.
Details about how the Council is tackling the climate and ecological emergency can be found at: www.westoxon.gov.uk/environment/climate-action/
Contact Information
West Oxfordshire District Council Communications Team
Notes to editors
Photo shows: Cllr Lidia Arciszewska, Cabinet Member for Environment, West Oxfordshire District Council alongside two of the new electric vans.
45% of District Council emissions are produced by the waste and recycling, street cleansing and grounds maintenance operations. Source: West Oxfordshire District Council Carbon Action Plan (28 October 2020).