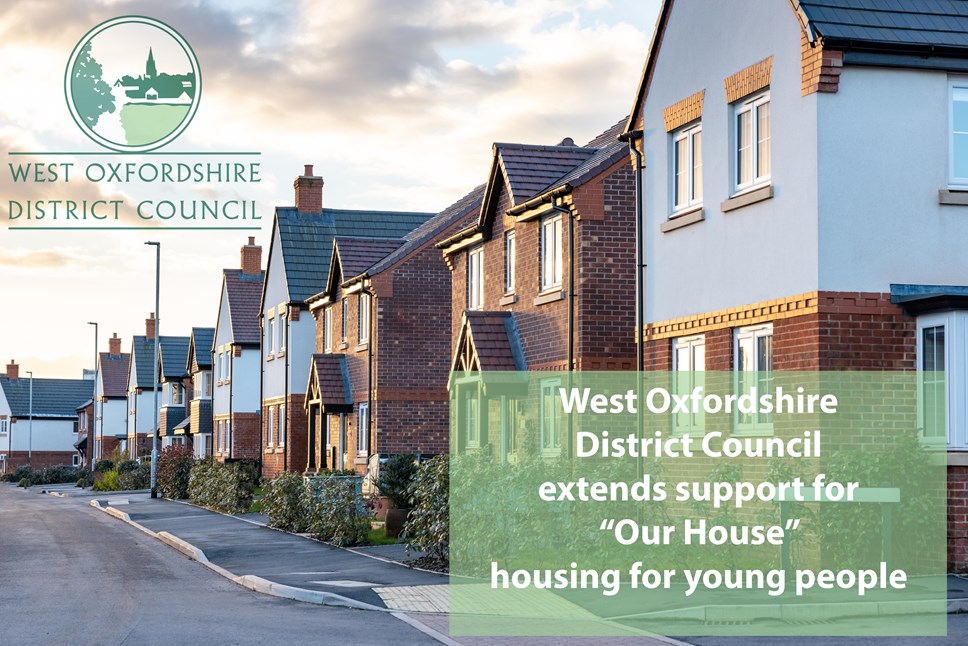 West Oxfordshire District Council extends support for housing for young people
Further support for "Our House" project from West Oxfordshire District Council
West Oxfordshire District Council extends support for housing for young people
The Our House project, which provides personalised employment and independent living support for single under-35s across West Oxfordshire will be supported for a further two years.
The scheme is enabled by acquiring large empty properties in the community and converting them into shared accommodation, giving young people the opportunity to live independently in affordable accommodation.
The project started in 2018 and has been funded with support from the Government's Community Housing Fund. Run by Cottsway Housing in partnership with West Oxfordshire District Council, the project sees individuals join Our House as 'trainees', living in a house together and being provided with support to get back into employment, education or training.
Councillor Merilyn Davies, Cabinet Member for Housing and Communities said "It is vital that support continues for this exciting project in West Oxfordshire.
Residents benefit from being able to rent their own room in a shared house, with this support being complemented with access to training and apprenticeships to help them get back into work. Residents also benefit from a dedicated housing and support worker."
I am proud that we are able to extend this project which supports and builds prosperous and inclusive local communities."
The Our House scheme which supports single under-35s who are in housing and employment need using expert knowledge from Aspire. Aspire supports young people and adults facing disadvantages in employment, training, housing and education.
Shaz Chudry, Neighbourhood Manager at Cottsway, said: "It's fantastic news that the Council will be extending this project. Our House provides so much more than just a place to live, it gives those involved the opportunity to shape their futures for the better and last year we were able to help 14 younger people in housing need."
Christina Rofique, Head of Youth Services at Aspire said "We're excited at Aspire to have the opportunity to continue to support local residents within the Our House project. It provides a much needed bridge to independence for our residents and the chance to grow and find their place within our community. The support of WODC to continue this project is invaluable."
The project is a joint partnership between West Oxfordshire District Council, Cottsway Housing and Aspire Oxfordshire.
Contact Information
West Oxfordshire District Council Communications Team