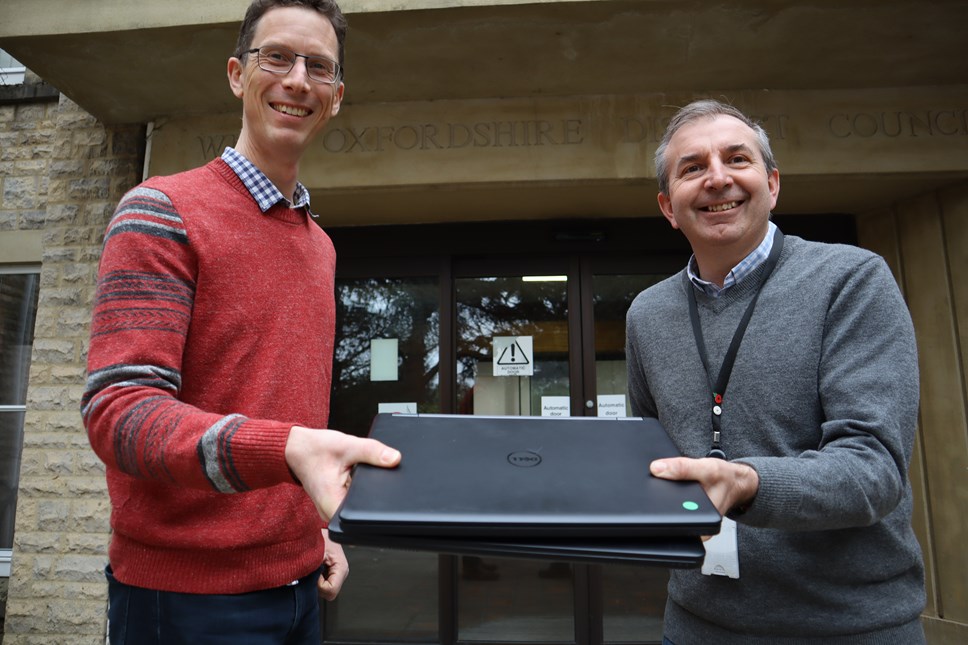 West Oxfordshire District Council donates IT equipment to local charity
MEDIA RELEASE
5th April 2022
West Oxfordshire District Council has donated its end of life laptops, computers and phones for re-use to charities to distribute them to people who struggle to access the equipment.
West Oxfordshire District Council has donated the equipment to local charity Oxford IT Bank, which helps residents in the local community by providing innovative technology solutions.
Phil Martin, Group Manager for Business Support Services of West Oxfordshire District Council said, "In 2022, people should not be digitally excluded and unable to access the technology many of us take for granted."
"By donating our end of life technology we can help those in need access online services, keep in touch with loved ones, shop online and keep an eye on household bills. "
Donated equipment has been securely wiped of all data and refurbished before items are distributed to those in need. The donated equipment will be 'end of life' for commercial use, but will be more than suitable for most personal uses, with council engineers ensuring they are recycled correctly.
Ben Tuppin from Recycle IT Oxford said, "We are delighted to partner with the team at West Oxfordshire District Council and accept our first delivery of 30 laptops. The supply of devices is a huge support to the Getting Oxfordshire Online programme, which we support in partnership with South Oxfordshire Food and Education Alliance (SOFEA), Aspire and Bicester Green, working to reduce digital poverty across the county.
"These laptops will support vulnerable people including families with school children unable to access a device, jobseekers looking to transform their lives, those with disabilities who need support to get online and refugees and asylum seekers building a new life."
ENDS
Contact Information
West Oxfordshire District Council Communications Team