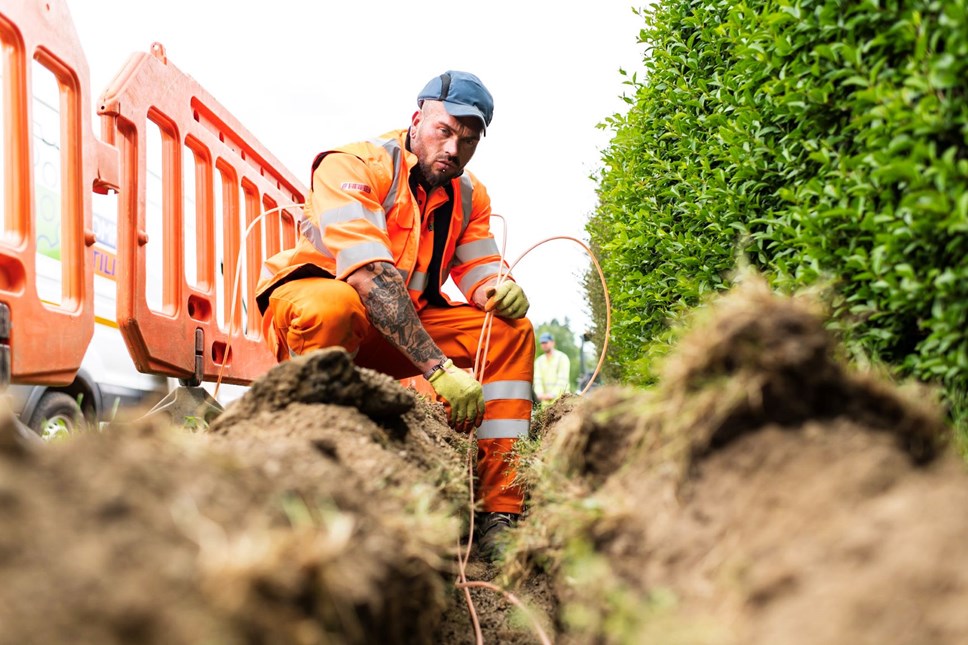 Ultrafast broadband delivered to more than 10,000 properties in the District
More than 10,000 rural homes and businesses in West Oxfordshire now have access to ultrafast full-fibre internet, providing them with some of the fastest broadband speeds in the world.
This milestone for the District has been delivered by rural broadband provider Gigaclear, in partnership with the West Oxfordshire District Council and the Government's broadband agency Building Digital UK (BDUK).
The properties, which are in some of the most remote areas of the District and suffered internet speeds as slow as 1Mbps, now have access to Gigaclear's ultrafast full-fibre broadband, providing speeds of up to 1Gbps.
Many of the 10,000 properties were part of the Connecting West Oxfordshire Project which has seen West Oxfordshire District Council and BDUK invest £3.1m between them with Gigaclear adding a further £5m. The remainder were delivered by Gigaclear commercially.
Cllr Merilyn Davies, Cabinet Member for Cabinet Member for Communities and Housing, said: "Fast broadband speeds are a necessity in a modern economy, especially with so many residents working from home during the pandemic so this is great news.
"The way we live and work now depends on the internet and, like any utility, it should be available wherever we choose to live."
Celina Joiner, Programme Manager at Gigaclear, said: "This is a fantastic achievement for us as a business, connecting those communities who need our service the most. In order to build our network, we've dug over 550,000 metres of trenching which equates to 342 miles – that's the same as driving from Oxford to Paris.
"Covid-19 has really underlined the importance of reliable broadband to live and work effectively from home and we're proud to bring it to the most under-served areas of the UK, where other providers simply aren't willing to go to."
West Oxfordshire has historically had slow broadband speeds due to the complexities of undertaking such a large infrastructure project in a rural environment. Gigaclear and its contractors have had to work with heavy duty equipment, all while carefully navigating small roads, rivers and rail crossings.
This is evident at Blenheim Palace, where Gigaclear has built more than 70 connections, meaning residential properties on the Blenheim Estate, as well as local farms, will benefit.
Roger File, Property Director at Blenheim Palace, said: "We value the importance of digital inclusion for all and are fully behind Gigaclear's mission to provide world-leading internet speeds to rural areas left behind by other service providers. It's a serious undertaking to dig metres and metres of trench but we've worked with Gigaclear to get this done with as little fuss as possible. It's no exaggeration to say that the infrastructure will be transformative for people living in the Blenheim Estate."
Ms Joiner added: "We try to make sure we that once we complete a project we leave the area looking the same, if not better, than when we arrived. This is exactly what we've done in West Oxfordshire, navigating Blenheim Palace and many beautiful villages with great care.
"Our work in West Oxfordshire with the District Council and BDUK will be completed by early next year, however we will be continuing to build our own network in the region, serving the most isolated and rural communities in West Oxfordshire."
To see if your property can be connected to Gigaclear's ultrafast network, visit https://www.gigaclear.com/buy
Contact Information
West Oxfordshire District Council Communications Team
Notes to editors
About Gigaclear:
Gigaclear designs, builds and operates a full fibre, ultrafast broadband network in rural areas across central and southern England. Established in 2010, our network now reaches more than 300 communities across 22 counties – and growing. We are working hard to provide rural properties, farms and businesses with the UK's best broadband speeds. Gigaclear's full fibre ultrafast network transforms communities by allowing residents to benefit from fast, reliable broadband speeds in an ever-progressive online world.
Gigaclear designs and builds its new networks to rural communities where there is a need for better broadband using commercial investment. In some communities we are working with Local Bodies to deliver this essential service with subsidy under the Building Digital UK (BDUK) scheme.
Gigaclear Ltd is principally owned by Infracapital, a leading European Infrastructure investor.