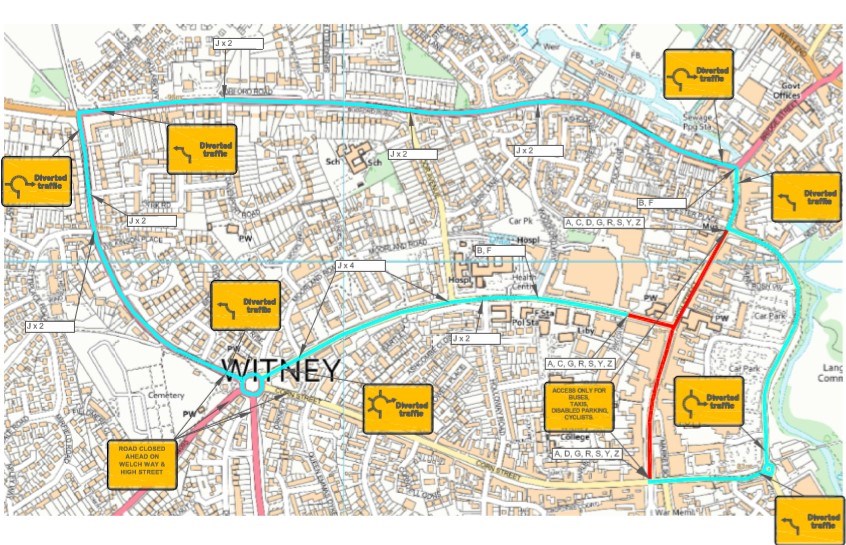 Traffic restrictions introduced in Witney to boost social distancing
Plans to modify Witney town centre are rolling out.
Traffic restrictions along the High Street up to the Market Square have now been introduced with the road closed to non-authorised vehicles, although shops will still be able to receive deliveries.
The scheme is designed to ensure shoppers and pedestrians have adequate room for safe social distancing.
Barrier sleeves with the logos 'Stay safe, shop local' and 'Please keep a safe distance' are being introduced to reinforce the message.
Cllr Toby Morris, Cabinet Member for Resources, said: "We have had to work quickly to bring about these changes which are now being rolled out but have been listening to businesses and residents during the process.
"We have also worked with partners including Witney Town Council and Oxfordshire County Council to ensure the town centre is a safe place for pedestrians while supporting the local economy.
"Significantly, these remain experimental changes which will be kept under review."
On Friday parking wardens will re-direct non-authorised vehicles away from the High Street while the three disabled parking bays outside Boots have been relocated further up the road.
The number 15 Stagecoach bus to Abingdon and the number 19 to Carterton are being rerouted down Corn Street from tomorrow in readiness for the closure of part of Welch Way on Friday 26 June.
Contact Information
West Oxfordshire District Council Communications Team