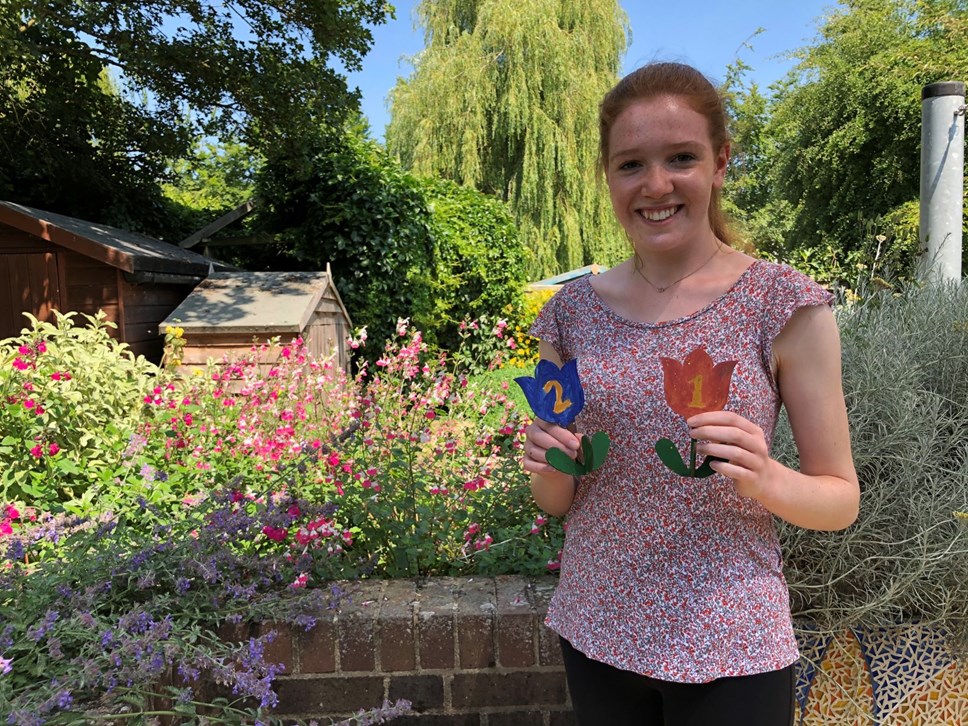 The show must go on at Witney Community Hospital
Patients at Witney Community Hospital are continuing to enjoy a full range of arts and crafts activities despite the impact of Covid-19.
The Creating With Care project has gone from strength to strength, not only providing patients with activities and shows but also helping them keep in touch with relatives and friends during lockdown.
Arts Co-ordinator Angela Conlan, who leads the Oxford Health NHS Foundation Trust initiative, said: "When lockdown first started we provided patients with activity packs and then online performances by musicians who have been taking live requests via an iPad. We have also recently started concerts in the garden.
"Our hospitals have not permitted visitors, so we have worked hard to combat patients' sense of isolation. I've been arranging Facetime conversations so that patients can speak to their relatives and loved ones.
"For many it has been their first adventure in using this technology and is an introduction to the technology and it has been great to see them take to it and enjoying using it so much."
The VE Day anniversary celebrations also proved a focal point with patients working with staff to create art installations and paintings with a patriotic theme.
Angela added: "VE Day came at a point when no-one was going out and people needed cheering up. It really helped with staff wellbeing as well."
Angela also works with volunteers including 17-year-old Henry Box School student Megan Rendell who has enjoyed spending time with the patients, helping them develop art projects.
Megan said: "I want to be a doctor but I have not really been in a hospital environment before. I enjoy talking to people and helping them with Facetime because they can get a bit lonely. It's very rewarding."
Creating with Care was started by West Oxfordshire District Council more than two years ago and has been funded by Section 106 money provided by housing developers. Angela originally came in as an artist in residence but the project has been such a success that she now works in community hospitals across Oxfordshire, supported by trust and charitable funds.
She said: "I have been able to highlight the benefits of using the arts in therapy and treatment in both mental and physical health. The Council, Oxford Health and Witney Community Hospital have played a large part in that."
Cllr Michele Mead, Cabinet Member for Leisure and Health, said: "This is a fantastic initiative and it is wonderful to see how many people have benefited from it during lockdown."
Contact Information
West Oxfordshire District Council Communications Team