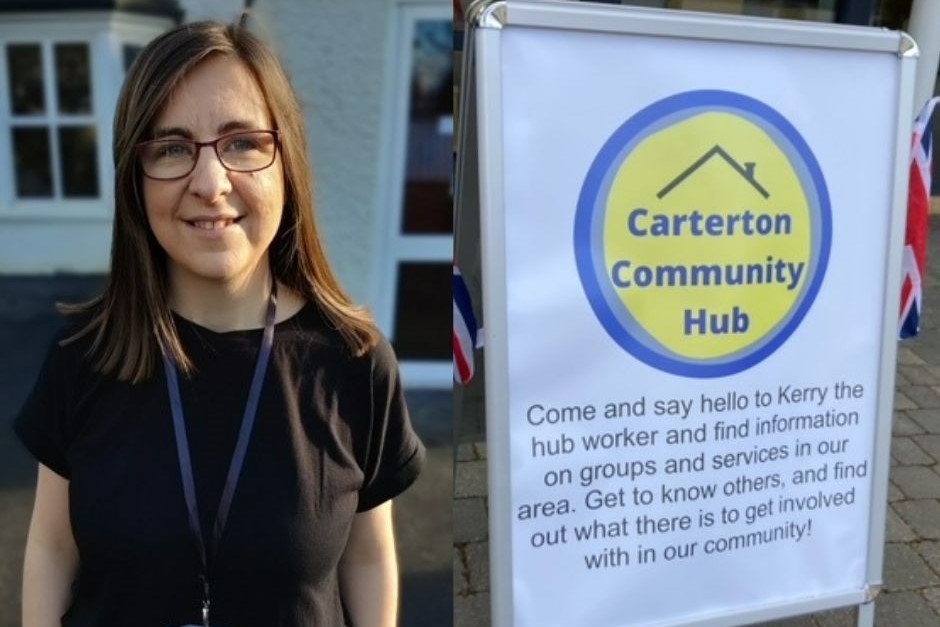 The Carterton Hub Worker has been bringing communities together in Carterton
Residents have been coming together at the community centre to meet new people whilst having a chat over a cup of tea. Since the end of March Kerry Miller, the Carterton Hub Worker, has been working alongside residents across Carterton and running weekly sessions every Wednesday at the community centre.
Community Wellbeing hubs in all their forms, were identified as a key area to support as part of the Council's post Covid Recovery plan. Following extensive research Carterton emerged as a location which could really benefit from having someone in place to connect the community, get to know the issues and opportunities and provide much needed support. The Carterton Hub worker role was created. Whilst Kerry is hosted by the Family Centre and often based there, this is very much a town wide role. Kerry runs regular sessions at the library and the Community Centre in Marigold Square.
Joy Aitman, Cabinet Member for Stronger Healthy Communities, said "Some residents have been feeling really isolated since the Covid pandemic and I'm so pleased that as the District Council we have been able to fund Kerry's role as the Carterton Hub Worker.
"The work that Kerry does is so valuable to the residents of Carterton and it is great to see communities coming together to support one another especially after the tough few years we've all had."
One resident in particular who has benefitted from the Community hub is Ted, an elderly gentleman, who was very lonely during the pandemic as he had just suffered from the loss of his wife who had previously kept him company. It was hard to socialise and meet new people during the various lockdown periods over the last few years. On one visit to the community centre Ted stumbled across the Community hub and was welcomed with a warm cup of tea and friendly chat.
Kerry, the Carterton Hub Worker, said, "Ted has really benefited from coming to the weekly hub sessions, he enjoys talking to new people and mentoring others in the community. He feels he has been given a purpose and it has also kept him in the loop and helped him find out about what is happening in Carterton and what other groups are available throughout the week. Ted is also now a volunteer at the new Refugee Welcome hub where he has been helping individuals with language practice and social skills".
Kerry will be taking a break from her role over the summer but will be continuing in September. If you need additional support before September you can visit the Family Centre in Carterton and the team there will be happy to help you and direct you to where you need to go.
You can keep up to date with Kerry's whereabouts on the Carterton Community Hub Facebook page.
For more information you can contact Kerry at [email protected]
Contact Information
West Oxfordshire District Council Communications Team