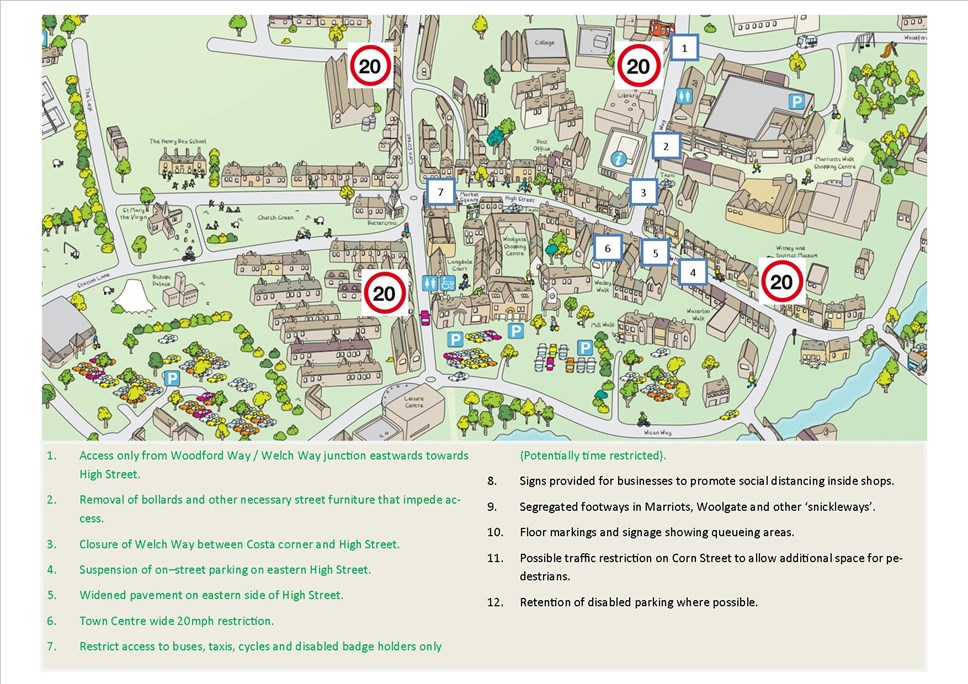 Tell us your views on Witney town centre plans
West Oxfordshire District Council is keen to hear from businesses and residents about their experiences with the experimental changes to Witney High Street in its efforts to support retail whilst maintaining a safe environment for residents.
Since launching its blueprint for Witney town centre last earlier this week, we have had a swathe of responses, many of them positive, about our efforts to introduce measures to encourage people to stay safe and shop local.
Some adjustments have already been made and the Council is looking to go live with these plans in a staged way towards the end of next week. It is important that feedback is received once the scheme is operating.
Cllr Toby Morris, Cabinet Member for Resources, said: "We have had to introduce these plans for Witney very quickly as non-essential retailers open from Monday. They are very much experimental so I would like to thank those who have spoken to us so far.
"We need to gather as much feedback as possible on how it is working on the ground so that we can modify the scheme if necessary in response to people's concerns."
The Council is also reaching out to other towns in the District in a bid to develop further plans if necessary, while packs of useful information, social distancing stickers and a poster are being distributed to hundreds of small and independent businesses.
Cllr Morris added: "We have put out a lot of information in a very short time and we need to see how it is working so please let us know what your experience is."
Feedback should be emailed to enquiries@westoxon.gov.uk
For more information on business recovery see:
https://www.westoxon.gov.uk/business-and-licensing/coronavirus-business-and-licensing/business-recovery/
Contact Information
West Oxfordshire District Council Communications Team