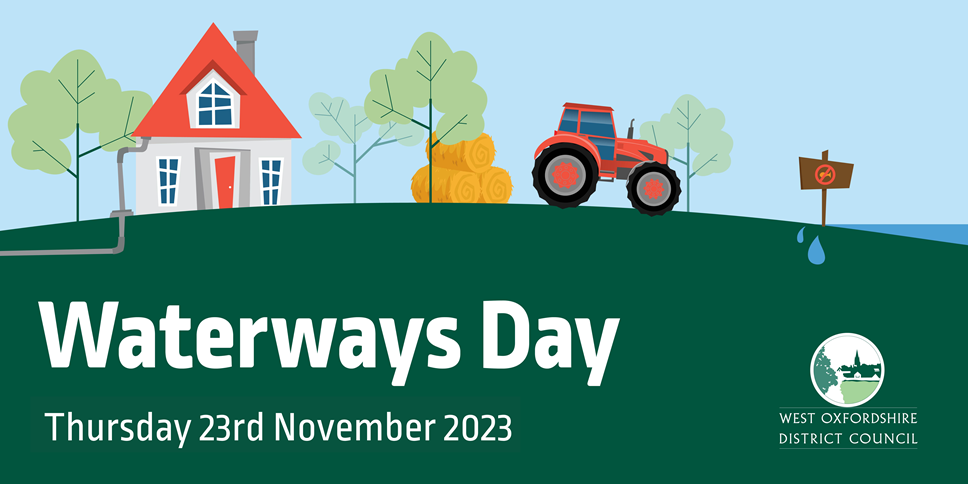 Residents invited to attend Council's second annual Waterways Day following the success of last year's event
West Oxfordshire District Council has announced this year's Waterways Day event, which will take place on Thursday 23rd November, from 10am to 6pm, at the Corn Exchange, Witney. The event will give residents another opportunity to learn more about the current state of local watercourses, and talk to the stakeholders and organisations that manage them.
Cllr Lidia Arciszewska, Executive Member for Environment, said, "Since last year's event, we have made progress in a number of areas, including working with Thames Water to ensure that sufficient sewer network and treatment facilities are in place for new housing developments, and resolving issues of sewage pollution at several of our district's hotspots.
"In light of this success, this year's event will bring together major stakeholders such as Thames Water, the Environment Agency, Oxfordshire County Council, as well as local charities, organisations and community groups, that are involved in the management of our waterways.
"We strongly urge anyone who is interested in learning more about our waterways and how they can help improve them, to come along and listen to the talks which will take place throughout the day, and ask any questions you may have.
"We want to hear what residents have to say and find out which areas they think should be a focus for us and our stakeholders next. So whether you wish to join us for the full day, or a single session, we look forward to another day of open, transparent discussions about our waterways."
The event will consist of talks from key stakeholders and organisations, held in four sessions that will cover four main themes: water pollution; clean water supply; flood mitigation and natural flood management and nature recovery schemes. Each talk will be followed by a Q&A session, to give residents further opportunity to ask questions. There will be a drop-in area with stands where people can speak directly to them about the issues that matter most.
Each of the following organisations will present at the event:
Blenheim Estates
CPRE
Earthwatch Europe
Environment Agency
Evenlode Catchment Partnership/Wild Oxfordshire
Nature Recovery Network
North East Cotswolds Farmers Cluster (NECFC)
Oxfordshire County Council
Thames Water
Windrush Against Sewage Pollution (WASP)
Windrush catchment partnership
Witney Flood Mitigation Group
To allow us to prepare for the number of attendees, residents should apply for their free ticket on the eventbrite page. Please note that tickets for this event are limited and it is strictly ticket only entry.
Full information on the event can be found on the council's website at https://westoxon.gov.uk/WaterwaysDay. This includes timings for the talks and parking information.
Contact Information
West Oxfordshire District Council Communications Team