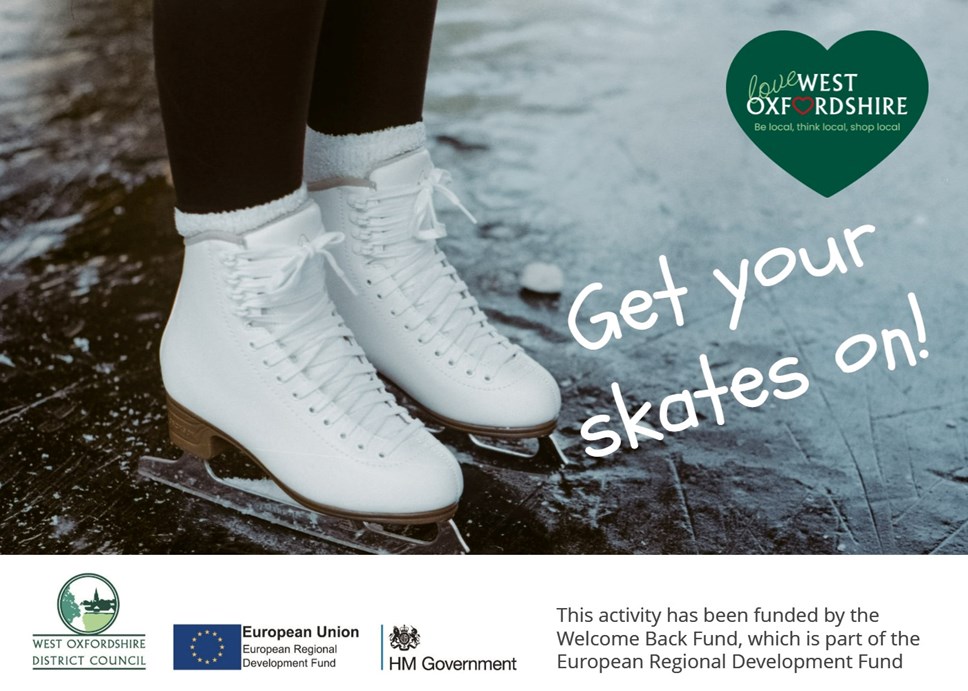 Residents 'get your skates on' as free ice skating comes to West Oxfordshire
Parents and children in West Oxfordshire are being invited to 'get your skates on' as West Oxfordshire District Council provides free ice skating as part of its Love West Oxfordshire campaign.
Marriotts Walk in Witney and Market Square in Carterton are the locations for the free ice skating sessions. The sessions will run as follows:
Witney - Saturday 19th to Sunday 27th February, 11am-5pm
Carterton - Saturday 19th to Wednesday 23rd February, 11am-5pm
Tickets for each site and session can only be booked though the LoyalFree page on the Council's website www.westoxon.gov.uk/loyalfree where available session times will be shown. From this page residents can also download the LoyalFree app for West Oxfordshire enabling them to access deals across the district from participating retailers.
Cllr Suzi Coul, Cabinet Member for Finance, said, "I hope that many local families will come and enjoy the ice skating over half term. It is great that we are able to offer this opportunity to local residents, many of who are already using the LoyalFree app to access many discounts and activities across West Oxfordshire."
The funding for this project comes from the European Regional Development Fund (ERDF) as part of its Welcome Back Fund. The fund has been provided to encourage people back to the High Street and support business as a result of restrictions due to the Covid-19 pandemic.
Sessions are suitable for all ages and abilities whether you are a superstar in training or a beginner just setting out. Come and show off your skating skills or simply have some fun with your friends. We're looking forward to seeing you there!
The LoyalFree app also provides trails that give users the opportunity to explore West Oxfordshire in a new way with routes like the Downton Abbey Trail and Witney Historic Sites trail giving an extra dimension to days out along with our special Valentines Day trail.
For more information on the LoyalFree app please visit www.westoxon.gov.uk/LoyalFree
Contact Information
West Oxfordshire District Council Communications Team
Notes to editors
LoyalFree is a mobile phone app which replaces the act of stamping a physical loyalty card. Customers collect points until they have enough to claim a reward. At the same time, customer data is pulled into a dashboard and provides information to businesses which enhances relationships with customers.
The LoyalFree app is available on Apple (iPhone and iPad) and Android devices that have cameras. If GPS is enabled on the user's device, the app will automatically show offers from the location of the user.
Users download the mobile app to find nearby deals. At the point of sale they scan the merchant's QR code and receive their points or discount instantly.
When enough points have been collected users are notified within the app. The next time they scan the retailer's QR code they receive the item and start collecting points once more.