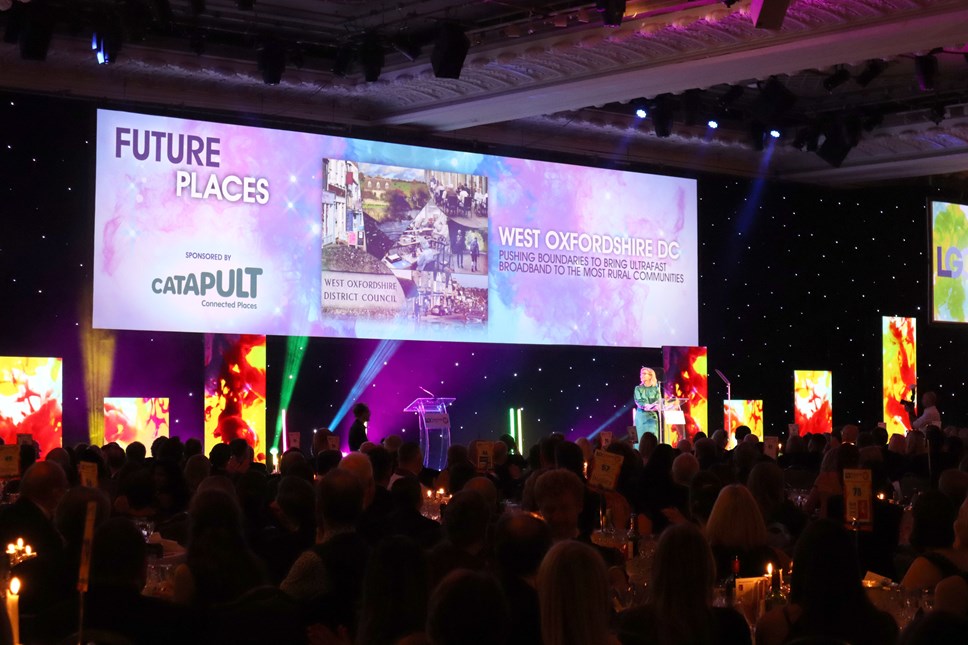 Over 99 percent of West Oxfordshire homes and businesses now able to access superfast broadband thanks to award nominated council project
An innovative project, jointly run by West Oxfordshire District Council and Gigaclear, to provide broadband to West Oxfordshire has now been completed meaning 99 per cent of households and businesses can now access superfast broadband, years ahead of the standard national rollout.
Cllr Jane Doughty, Cabinet Member for Customer Delivery, said: "This scheme has transformed West Oxfordshire bringing ultrafast fibre broadband to homes and businesses which previously could barely manage a connection.
"Working with Gigaclear we have done it well ahead of the national rollout and which has been so important for people to connect with high speeds all across the district, not just in our towns. As part of our ambition to help grow our vibrant economy and support strong local communities, the additional connectivity provided by this upgrade will be crucial and that has been demonstrated during the pandemic.
"It is great we have been shortlisted for a national LGC Award, recognising the impact this project has had on our rural communities and I am really pleased we have been able to help people across the district by enabling them to access better broadband."
The project has been recognised on a national stage by securing a place on the Local Government Chronicle Awards shortlist for the 'Future Places' category which recognises councils which are using emerging technologies to work with partners and the public to make their areas more sustainable and/or healthier, less congested, more connected and prosperous West Oxfordshire District Council.
To deliver the project West Oxfordshire District Council teamed up with Oxfordshire-based specialist rural broadband provider Gigaclear and the Government's broadband agency, BDUK to connect 4,788 rural properties to a new fibre network enabling speeds of up to 1,000Mbps (1Gps).
As part of the scheme, 22 community facilities also received free ultrafast broadband connections after being nominated by their residents.
Cllr Doughty said; "This project was about more than just providing a service, it was about working with communities to build connections and provide the benefits of ultrafast broadband to communities that otherwise wouldn't be able to access it.
"We were determined that any investment the Council made would be for future-proof technology which would deliver the highest speeds for many years to come. Gigaclear's full fibre network that goes right to customers' premises does just that. I hope this project will have real lasting benefits for our residents, allowing more of us to work from home, communicate with loved ones, access improved local facilities and grow rural businesses."
The project has also kick-started a further £21m commercial investment from Gigaclear which has so far connected 10,460 additional properties to the 'ultrafast broadband' network. This has taken the total number of homes and businesses with ultrafast broadband to more than 15,000 – 30 percent of properties in the District, way above the national average.
Joe Frost, Business Development Director at Gigaclear said; 'We have been working collaboratively with West Oxfordshire District Council to bring full fibre, gigabit capable broadband to rural homes and businesses. With significant investment we have laid more than 400 miles of fibre to date. But it doesn't stop there as our build activity in the region continues, we are proud to be a key player in the transformation of rural West Oxfordshire.'
Contact Information
West Oxfordshire District Council Communications Team
Notes to editors
Photo caption: West Oxfordshire District Council and Gigaclear attend LGC Awards in the category of Future Places