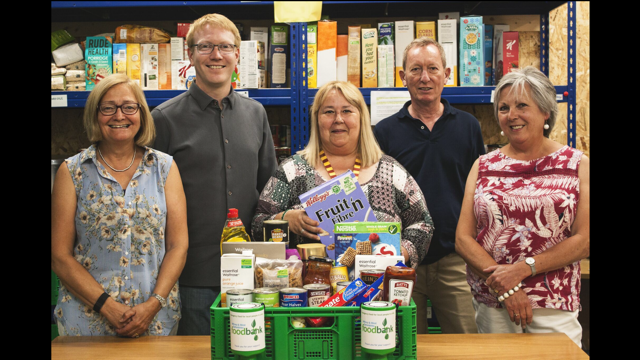 Key relationship helps feed residents most at risk
Since Covid-19 first became a reality, a key priority for West Oxfordshire District Council has been ensuring those at risk were receiving sufficient food.
To mark Volunteers Week, we are highlighting how we are working with volunteer groups such as the Witney and West Oxfordshire Food Bank, as they battle to ensure everyone in the District receives enough to eat every day.
From the outset, the Council team was able to build on a relationship with the Food Bank an established organisation which deals with referrals from residents across the District who, for whatever reason, are struggling to buy food.
Since the crisis began, Council staff have been helping ensure the Food Bank has enough stocks to meet with spiralling demand.
They have also referred residents who have been getting in touch directly to the Food Bank.
Trustee and Treasurer Susan Shayler said: "We had an established relationship but since Covid-19 demand has risen sharply.
"The problem has been with supply as normally we receive donations made by people visiting supermarkets but this dried up early on as individuals struggled to get food themselves."
Council officers worked with the trustees to open an account with wholesaler Bidfood where food in sufficient quantities could be bought using cash donated to the Food Bank.
They also worked closely with Didcot-based SOFEA which, in partnership with FareShare, re-distributes food surplus from supermarkets across the Thames Valley.
Susan added: "We are in contact with the Council team on a day to day basis about food parcel distribution.
"They are also helping us get in touch with sources of grant funding and helping us write bids which is so important. The administrative support has been vital.
"And we are also able to signpost those using the food bank to other council support such as housing and benefits if we recognise they are in crisis."
Picture shows L-R: Susan Shayler, Eric Neilson, Lou Gorrod, Alan Quinquis and Ruth Mason
Contact Information
West Oxfordshire District Council Communications Team