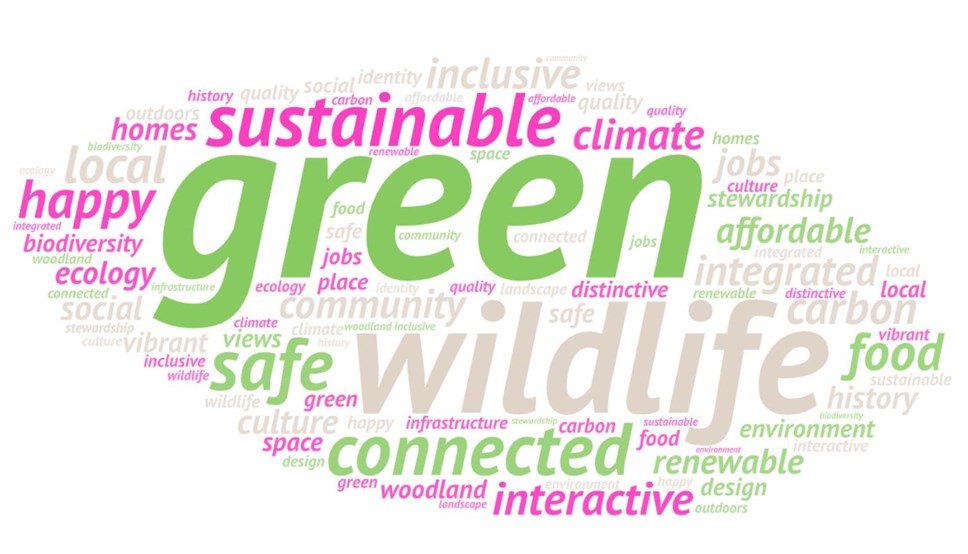 Key consultation launched for garden village site
Views are being sought on the Area Action Plan (AAP) for Salt Cross garden village.
An eight-week public consultation was launched today and is the culmination of comprehensive work involving public meetings and events along with the compilation of expert reports showcasing the concept, vision and proposals for the garden village.
Once adopted, the AAP will become statutory. It will be used alongside the Local Plan and Eynsham Neighbourhood Plan to determine future proposals at the garden village.
Community representatives, land promoters Grosvenor Britain & Ireland, West Oxfordshire District Council and Oxfordshire County Council have held meetings, events, consultations and activities to listen to ideas from a wide range of interests.
Work on the AAP began in 2018 with an initial issues consultation, followed by preferred options in 2019. These stages have included a three day design event, a series of community forum meetings and a number of study tours.
Once the consultation is complete, the AAP will be submitted for independent examination with a view to it being adopted early next year.
Alongside the AAP, Grosvenor Britain & Ireland last month lodged an outline planning application for the Salt Cross site. The AAP will provide the next level of detail in the legislative framework against which the recently submitted outline planning application will be measured.
The masterplan sets out provision for 2,200 homes, new primary and secondary schools, sports facilities, parks, allotments and 57,000 sq metres of employment space. The new employment park is designed in particular to attract advanced manufacturing businesses.
Cllr Jeff Haine, Cabinet Member for Strategic Planning, said: "The AAP is a vital part of the process in seeing the garden village become a reality.
"We would like to hear from as many individuals and groups as possible as we continue to shape our vision for Salt Cross."
The site was one of 14 garden villages endorsed by the Government in 2017 to help meet the UK's housing need. Grosvenor Britain and Ireland was appointed in the same year by local landowners to bring forward a planning application for an inclusive and sustainable scheme.
Anyone wanting more information and to take part in the consultation should see:
https://www.westoxon.gov.uk/planning-and-building/planning-policy/salt-cross-garden-village/
The consultation runs until 23 October.
Contact Information
West Oxfordshire District Council Communications Team
Notes to editors
A key element of the West Oxfordshire Local Plan 2031 is the establishment of a garden village to the north of the A40 near Eynsham.
Known as Salt Cross, it will be a new standalone settlement of 2,200 new homes and a new science business parkwhich will give local people an alternative to driving to work in Oxford.
In addition, the nearby Hanborough railway station together with a new Park and Ride facility to the north of Eynsham will give people an alternative to using their cars.
It will have its own village facilities, such as a school and community resources, whilst taking proper account of environmental considerations and planned infrastructure improvements.
Salt Cross will make a major contribution towards providing much-needed homes and jobs in a high quality living environment. It will also unlock funds to improve infrastructure and boost the case for improvements to local transport links, including upgrades to the A40.
An Area Action Plan is needed for any location or area of significant change; it sets out how a new development will be taken forward, what it will look like and how it will function.
It was stipulated that there should be an Area Action Plan for Salt Cross as part of West Oxfordshire's Local Plan.