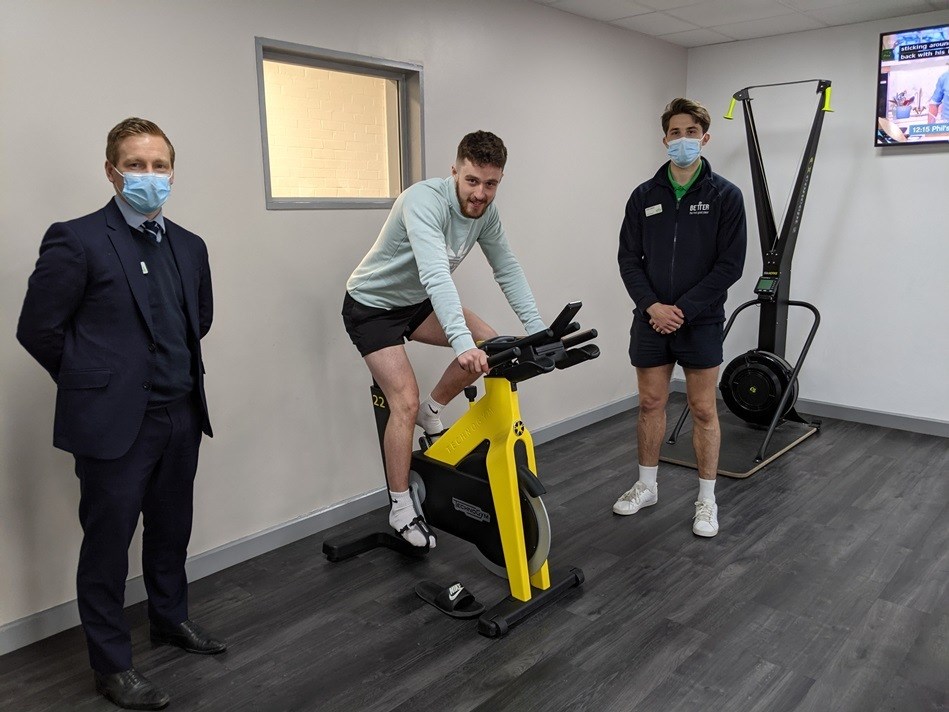 'It's great to be back' – residents welcome leisure centres reopening
Customers are flocking back to leisure centres across West Oxfordshire.
After months of lockdown, staff have been encouraged as growing numbers of users come through the doors.
Sam Godwood, 19, from Finstock has been delighted to be able to return to the gym at the Windrush Leisure Centre in Witney.
He said: I've been doing a lot of stuff such as weight training which I haven't been able to do at home. It's great to be back.
"There are great facilities here and the staff are very helpful. I feel safe and I would encourage anyone to come along and enjoy themselves."
The facilities are operated by Better West Oxfordshire on behalf of West Oxfordshire District Council.
Initially outdoor facilities and classes resumed on 29 March at Witney ATP, Carterton ATP and Carterton Pavilion accommodating local football clubs and outdoor exercise classes.
Gyms, studio spaces and indoor pools have now reopened at Bartholomew Sports Centre, Eynsham, Windrush Leisure Centre, Witney, Carterton Leisure Centre and Chipping Norton Leisure Centre.
Staff are operating an enhanced cleaning regime while customers will be asked to wipe down the equipment they have used. Hand sanitiser will be available in all leisure centre buildings.
Jamie Coleshill, Regional Director for Better Leisure Centres in West Oxfordshire, said: "Our key priorities as always are to ensure customer and staff safety and to again build customer confidence and we will be implementing the tried and tested Covid-secure operating practices that worked successfully during 2020.
"We are looking forward to welcoming back our customers and anyone who wants to improve their physical and mental health through exercise and physical activity.
"We do however recognise that some people may still be worried about returning to their local leisure facilities at this point. We will therefore continue to offer free access to online fitness and exercises classes via our Better app."
Anyone wishing to use the outdoor activities or the indoor facilities will need to pre-book a time slot via the Better app or website.
Equipment within gym areas will be again be reduced to ensure that two metres social distancing between users is maintained, while some fitness classes will be relocated to sports halls or even, weather permitting, the open air.
Better members will also be given access to all Better-operated facilities across West Oxfordshire for the foreseeable future.
Scott Williams, Business Manager - Contracts at West Oxfordshire District Council, added: "It has been a very positive restart and there has been a real increase in the numbers of people coming back compared to previous restarts.
"We know there is real appetite for exercise in West Oxfordshire and I would encourage everyone to visit their local facilities where they will be assured of a warm welcome and safe environment to exercise in."
Contact Information
West Oxfordshire District Council Communications Team