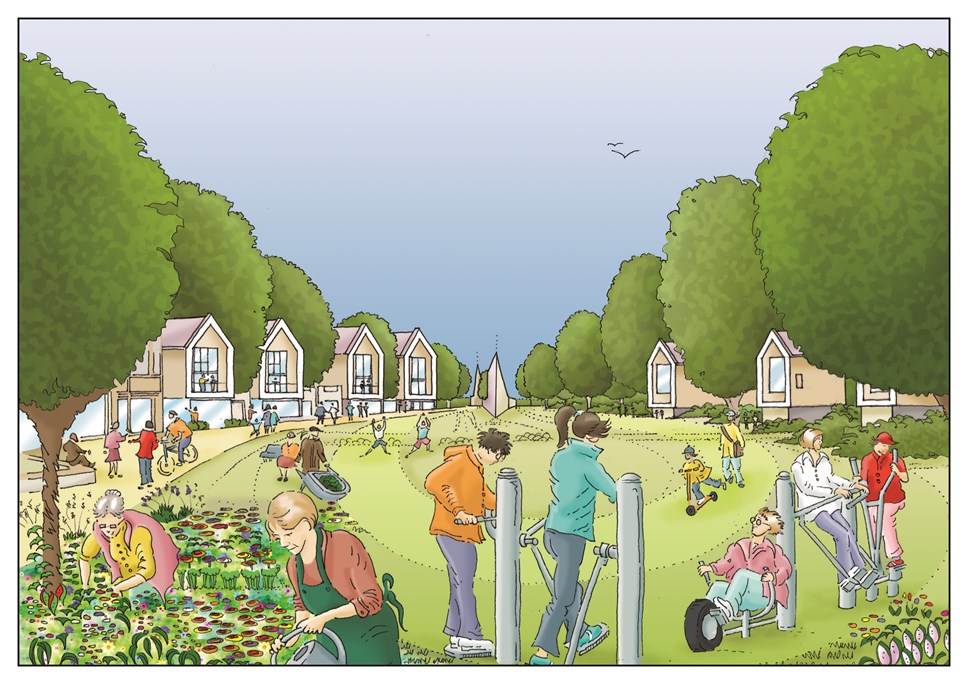 Inspector responds to Area Action Plan for Salt Cross Garden Village
The Planning Inspector has responded to West Oxfordshire District Council on the Area Action Plan (AAP) for Salt Cross Garden Village, paving the way for the plan to be approved and setting the scene for the development to progress.
Cllr Carl Rylett, Cabinet Member for Planning and Sustainable Development, said, "I am pleased to say the Planning Inspector has supported a large proportion of our incredibly ambitious plans for Salt Cross. We want this to be a groundbreaking, sustainable housing development which is why we are pushing for more when it comes to affordable homes, biodiversity and active travel, with a view to making this an exemplar development of national as well as local importance.
"Our Area Action Plan sets the bar high and endeavours to deliver a garden village of the future that sets the standards for protecting our local wildlife, is affordable for local people and provides jobs and sustainable infrastructure.
"It has been designed in collaboration with local people and I would like to thank all the residents and local organisations who have worked with us to get the plans to this stage."
The Area Action Plan sets out the framework for how the Salt Cross Garden Village should be a landscape led development, taking into account key factors such as affordable housing, protecting the environment, active travel and business growth.
The AAP was developed through extensive consultation with local communities to make sure the development is right for the district.
The plan includes:
A requirement to deliver 25% biodiversity net gain compared to a national standard of at least 10%
A mix of new homes including opportunities for self-build and 50% affordable housing, including a mixture of rented and affordable home ownership options
A new 40ha science and technology park adjacent to a 'park and ride' into Oxford
Around 50% (including private gardens and green roofs) of the area will form an accessible and high quality green infrastructure network
A comprehensive green infrastructure network for walking and cycling to reduce the need for reliance on cars
A plan to ensure that local people are able to benefit from training and local job opportunities
The Council submitted the AAP for Salt Cross in February 2021 with the Planning Inspector holding public hearings to obtain resident, developer and business views on the plans.
The Inspector has now confirmed the plan is close to completion subject to changes set out in their letter. The council will now consult on those changes proposed by the Inspector.
The Inspector has approved most of the council's ambitious plans including groundbreaking targets for biodiversity and for affordable housing but did not approve the requirement for new homes to be built to net-zero carbon standards.
Councillor Rylett continued, "We are very disappointed the Inspector did not approve the net zero carbon homes approach we proposed. However, the Council is absolutely committed to doing whatever it can to tackle the Climate Change Emergency, and we will be looking at what other options are available to us to minimise any ongoing impact to the climate."
Views will be sought on the proposed changes through a full public consultation – the timing of which will be confirmed as soon as possible, but is anticipated to take place from July 2022 for a period of 6 weeks.
For more information on the Garden Village please visit https://www.westoxon.gov.uk/planning-and-building/planning-policy/salt-cross-garden-village/
Contact Information
West Oxfordshire District Council Communications Team