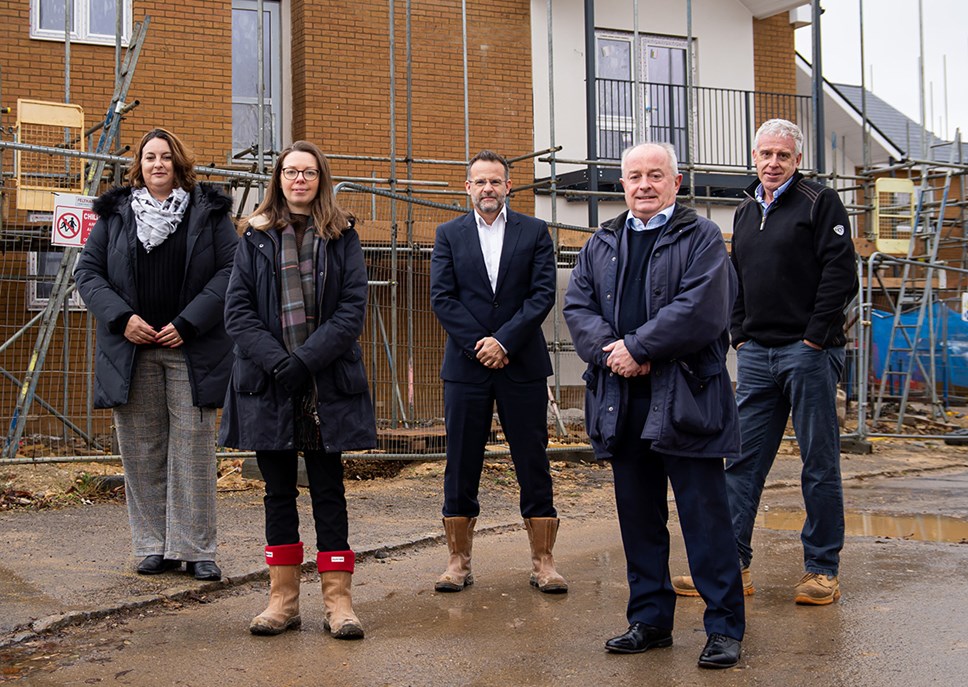 Housing schemes Lavender Place in Bampton and Blenheim Court in Carterton are well under way
The on-going redevelopment of the two former Cottsway housing schemes is now well underway, with new, modern apartments offering larger living spaces and eco-friendly features taking shape.
The two sites at Lavender Place, Bampton, and Blenheim Court, Carterton which are due to be completed next year will provide a total of 49 new one and two-bed apartments. These apartments will be for social rent for people aged over-55 in housing need. In Lavender Place there will be 18 apartments and 31 apartments at Blenheim Court.
Cllr Michele Mead, Leader of West Oxfordshire District Council visited the development sites to see how they are progressing.
She said: "Housing is a key priority for us as a district council. We are keen on supporting residents by working with partner organisations to deliver quality, modern homes at an affordable rate. I look forward to seeing the complete transformation on these redeveloped sites when they are released by Cottsway in 2022."
Cllr Merilyn Davies, Cabinet Member for Housing and Communities, added: "There's nothing more important than having a place to call home, and everyone should have the right to a home they can afford. I'm pleased that this development in Bampton will soon be available for people over 55 in our District looking to rent high quality affordable homes.
"One of one key priorities as a council is to meet the affordable housing needs of our residents and this development will provide 18 apartments for social rent to meet some of these needs."
The new buildings, which are being built in place of the demolished 1960s structures, will offer improved, modern living standards for new residents with the replacement of small bedsit accommodation with more spacious one and two-bedroom apartments.
Both schemes include solar panels and electric heating, and electrical vehicle charging points are being fitted at Blenheim, with the option for charging points to be installed at Lavender at a later date to meet customers' needs in the future.
Vivian Rosser, Chief Executive of Cottsway, said: "It's great to see that construction on both sites is progressing well. These apartments are being built to a high standard offering customers modern, comfortable accommodation with attractive features, such as balconies for outdoor living at the Blenheim Court development. We're absolutely delighted to be able to say that all 49 of them will be available for social rent by people aged over 55.
"Demand for affordable housing of this kind is high in West Oxfordshire and Cottsway is absolutely committed to developing more new homes for people in housing need, while continuing to invest in our current homes. These two developments will help make a real difference to those in need and what's more, we're ensuring that we're installing features to ensure they're future-proofed for more low carbon living.
"These developments are a great example of how Cottsway is taking steps to build sustainability into our housing, which is something that is important to us and our customers."
The District Council also provided £20,000 Disabled Facilities Grant to install walk-in showers in the ground floor apartments at the Blenheim Court development while the Oxfordshire Housing and Growth Deal - which involves Oxfordshire's five district councils and county council working together to secure government investment for new homes and infrastructure across the county - has provided a grant of nearly £2.7m to support the two developments.
Contact Information
West Oxfordshire District Council Communications Team
Notes to editors
The Oxfordshire Housing & Growth Deal is providing grants of £1.705m for the development of Blenheim Court in Carterton and £990k for Lavender Place in Bampton.
Photo: Blenheim Court, Carterton - Cllr Michele Mead, Marita Ford, Chris Edwards (Feltham Construction), Viv Rosser, Simon Lampard (Feltham Construction).