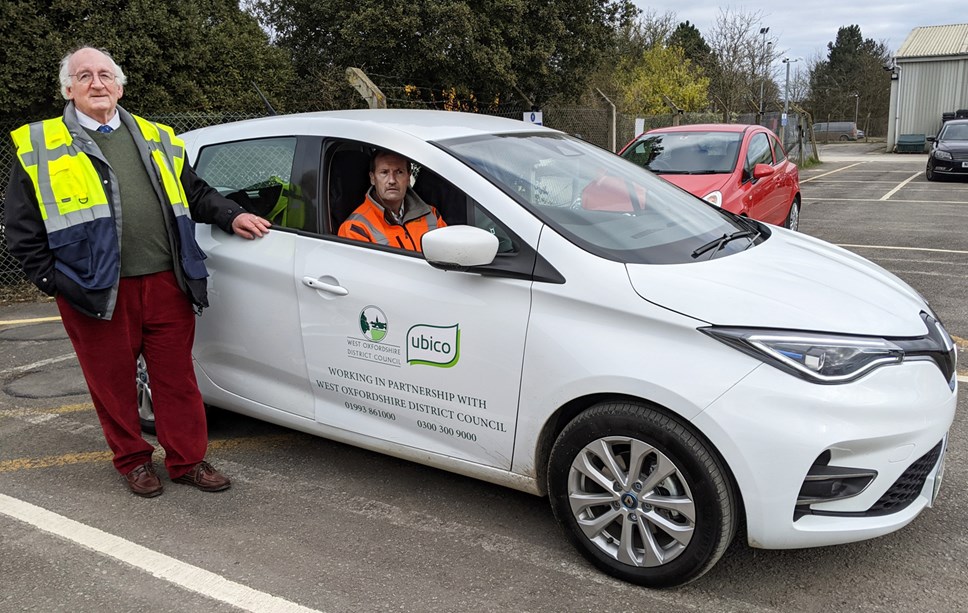 Hello Zoe! West Oxfordshire District Council welcomes first all-electric vehicle
West Oxfordshire District Council has taken delivery of its first battery electric vehicle (BEV) – a new Renault Zoe R135 Iconic.
A positive step towards the council's ambition to be carbon-neutral by 2030, the vehicle's arrival comes just weeks after councillors approved the authority's Climate Change Strategy at its Full Council meeting at the end of February.
The Strategy sets out how the authority will respond to the climate and ecological emergency across the district over the next four years - including its approach to cleaner energy and low-carbon transport.
Ubico, West Oxfordshire's waste and recycling delivery partner, will use the council-owned vehicle day-to-day. The Zoe's 52kWh battery has enough capacity for staff to undertake their work without the need to recharge during the day.
Ian Bourton, Head of Fleet Operations at Ubico, said: "For the type of mileage the Zoe will be doing, electric vehicles are now considered the best environmental option. They have zero exhaust emissions, so contribute to better air quality, and analysis of the full life cycle consistently shows that battery electric vehicles, such as the new Zoe, emit less CO2 over their lifetime than diesel and petrol cars."
Councillor David Harvey, Cabinet Member for Climate Change at West Oxfordshire District Council, said: "Investing in this vehicle is an important step in the right direction and is just one example of how we are working collaboratively with our partners to bring about change. The greater, more difficult challenge will be the transition to a wholly 'green' waste and recycling fleet over the next few years, which will offer the reliability and range of more conventional vehicles. Forty five percent of the council's own emissions are the result of vehicles used on the waste, street cleansing and grounds maintenance contracts so it is crucial that we aim high, remain ambitious and explore all the options for the most sustainable outcome for the district."
Councillor Norman MacRae, Cabinet Member for the Environment at West Oxfordshire District Council, said: "Climate action has to be central to all the decisions we take about how council services are delivered and how our partners deliver services on our behalf. We are delighted that Ubico has taken delivery of the council's first electric vehicle to support our waste operation."
Following successful trials, tendering has begun for the council's next vehicle – a fully electric powered road sweeper that will support West Oxfordshire's street cleansing function. The vehicle should be on the road in the summer.
Find out more about how the authority is tackling the climate and ecological emergency: www.westoxon.gov.uk/environment/climate-action/
Contact Information
West Oxfordshire District Council Communications Team
Notes to editors
Photo shows (l-r): Cllr Norman MacRae, Cabinet Member for the Environment at West Oxfordshire District Council and Bob Lightfoot, Operations Manager for West Oxfordshire, Ubico.