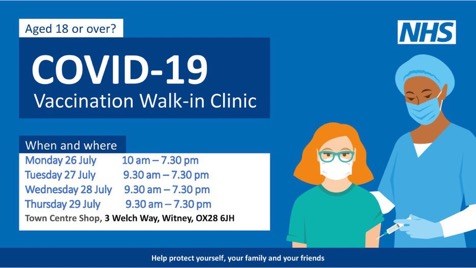 'Grab a jab' in Witney and get protected against COVID-19
From Monday 26 July anyone aged 18 or over can receive a first or second dose of the COVID-19 Pfizer vaccine at a walk-in clinic in Witney Town Shop, 3 Welch Way, Witney OX28 6JH.
The Pfizer walk-in clinic will be open on the following dates and times:
Monday 26 July (10am to 7.30pm)
Tuesday 27 July, Wednesday 28 July and Thursday 29 July (9.30am to 7.30pm).
No appointment is necessary to allow people aged 18 or over to have a first or second dose of the Pfizer vaccine (there must be an interval of at least 8 weeks from receiving the first dose to be eligible for the second dose). People may be asked to show proof of age.
This follows the success of walk-in clinics in Oxfordshire over the past month when around 4,650 first and second dose COVID-19 vaccinations were delivered to people aged 18 or over.
Contact Information
West Oxfordshire District Council Communications Team