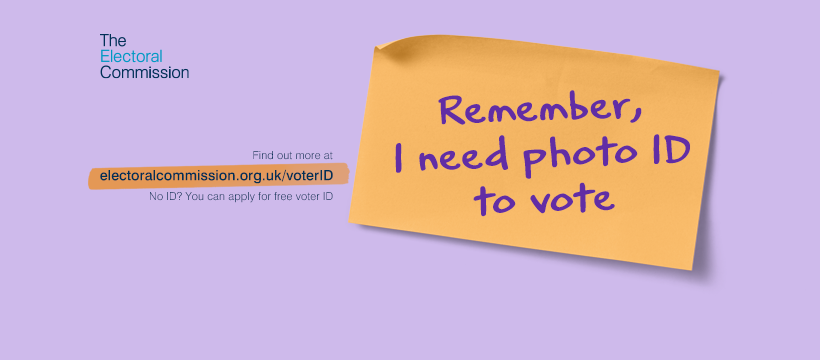 Final chance for voters without valid ID to apply for their Voter Authority Certificate ahead of 4 May local elections
For the first time, residents in West Oxfordshire District will need to show photographic ID to vote in person at this year's local elections which are being held on 4 May. Residents without a valid form of ID have until 5pm on 25 April to apply for a free Voter Authority Certificate which will act as ID for people voting at a polling station.
Accepted forms of ID include a UK, European Economic Area (EEA) or Commonwealth passport; a UK, EEA or Commonwealth drivers' licence; and some concessionary travel passes, such as an older person's bus pass. Voters will be able to use expired ID if they are still recognisable from the photo and the name on the ID should be the same name as appears on the Electoral Register. Only original documents will be accepted; scanned images or copies will not be accepted.
Anyone who does not have one of the accepted forms of ID will be able to apply for free ID online at voter-authority-certificate.service.gov.uk/ or by completing a paper form which is available from the Council.
More information is available on the West Oxfordshire District Council website, including details of how to apply for the free ID. Anyone not able to visit the council website, or apply for a Voter Authority Certificate online, is being encouraged to contact the Council by calling 01993 861410.
Giles Hughes, Returning Officer for West Oxfordshire District Council, said:
"Anyone voting at a polling station in England this May will need to show photo ID before they can be given their ballot paper. It's important that everyone understands what types of ID they can use, and how to apply for free ID if they need it.
"There are only a few days left to apply for a Voter Authority Certificate and I would encourage everyone to check they have valid ID this weekend. If they don't have valid ID they need to apply for their certificate before 5pm on Tuesday 25th.
"I would also ask people to check in with elderly neighbours, friends and family to make sure they understand the new ID requirements and have ID in place.
"Residents who do not have one of the accepted forms of ID can apply for their free Voter Authority Certificate either online or by completing a paper application form which is available at our offices or by calling us at 01285 623002. If you need any help with applying for the free ID or want to request an application form please contact us."
The requirement to show photo ID at the polling station, is a new requirement, introduced by the UK Government's Elections Act which was passed last year and comes into effect for the first time this May.
Ends
Contact Information
West Oxfordshire District Council Communications Team