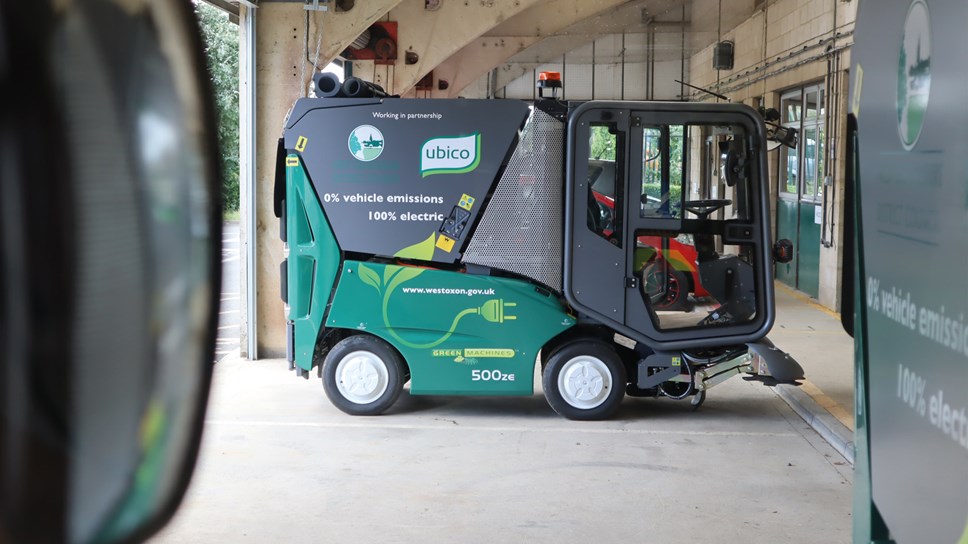 Expanding electric fleet will help keep towns green and clean
The job of keeping the towns of Carterton and Woodstock clean will be greener following the purchase of two new fully electric street sweepers by West Oxfordshire District Council as the authority strives for greater sustainability to benefit the local environment and the communities it serves.
The sweepers are the latest additions to the Council's growing fleet of fully-electric vehicles as it continues to champion greener transport choices.
Councillor Lidia Arciszewska, Executive Member for Environment at West Oxfordshire District council, said: "With taking action on the climate emergency a top Council priority, we are constantly looking at how we can improve the services we deliver so that they provide the greatest environmental outcomes while balancing best value for our residents.
"Transport, largely linked to the delivery of our waste and recycling services, street cleansing and grounds maintenance contracts, accounts for over 40% of council emissions so this is an area where there is huge potential to make significant gains in cutting our carbon footprint.
"As part of addressing this we have already invested in a larger electric sweeper as well as three electric work vans and we will continue to work with Ubico to explore further opportunities to reduce our fleet emissions and to improve local air quality where we can."
With zero tailpipe emissions and quiet to operate, the new Green Machine Ze500 sweepers are well suited to be used in the two towns' residential areas where they will be used to clear road gutters and cleanse pavements as well as other pedestrianised areas.
Collectively they could save over 19,000 kg CO2 per annum - the equivalent of saving 70,000 miles being driven in an average petrol car.
Investing in low-carbon vehicles is just one way the District Council is rising to the immense challenge of becoming a carbon neutral local authority by 2030, well ahead of the UK Government's 2050 target.
Benefitting from lower servicing and maintenance costs and cheaper fuel, the day-to-day running costs of the vehicles should be less than the end-of-life diesel sweepers they replace.
Part-funded through West Oxfordshire District Council's New Initiatives Fund, which supports the delivery of the Council's high priority projects, the vehicles will be used by Ubico to support the street cleansing functions it carries out on behalf of the District Council.
Contact Information
West Oxfordshire District Council Communications Team