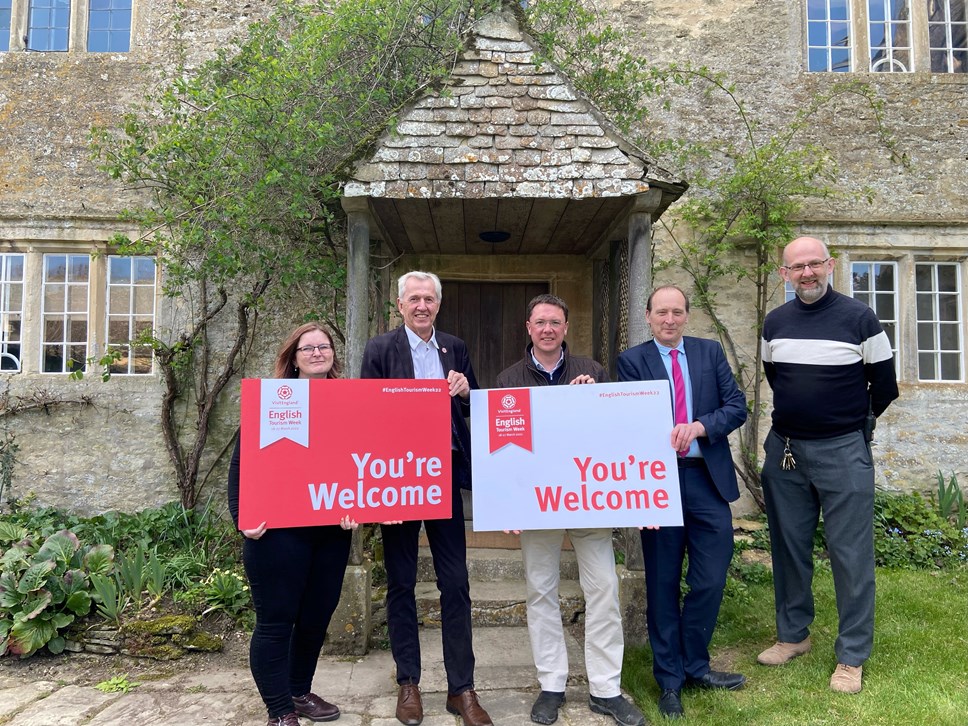 English Tourism Week highlights the great tourism economy in West Oxfordshire
Local MP's and councillors were out this week using English Tourism Week to visit local businesses in West Oxfordshire to see how the region's tourism industry is ready to welcome visitors again providing unique experiences as well as vital local jobs
The invitation was from Cotswolds Tourism – the Destination Management Organisation for the Cotswolds, who accompanied the MP's & Cllrs to key businesses in the District all of whom are either making a difference in a sustainable manner by supporting the Caring for the Cotswolds scheme, or have had recent development to enhance the region's offer. With the strap line this year of 'You're Welcome' the week highlights tourism's economic importance to local economies including jobs and career opportunities as well as promoting the innovation, quality and range of products and services on offer to boost those important domestic breaks.
English Tourism Week runs from 18th March until 27th March and gives tourism bodies like Cotswolds Tourism, as well as local authorities a great opportunity to promote the importance, value and vast contribution the sector makes to the local area and the wider UK economy.
Tourism spend plays a vital role in driving the wider visitor economy supporting local jobs and over a billion pounds is spent by visitors across the wider Cotswolds region. For West Oxfordshire District around 4,400 jobs relate to tourism and visitors spending was around £247 million pounds in 2019 prior to the pandemic.
With all restrictions now eased, it is hoped the area will continue to be a draw for both domestic and international tourists and help businesses fully recover from the impact of the pandemic.
West Oxfordshire District Council Cabinet Member for Finance and portfolio holder for tourism, Cllr Suzi Coul, visited Heath Farm Holiday Cottages to learn more about the farms sustainability focus and how they support local jobs. Cllr Coul also accompanied the local MP, Robert Courts on a separate visit to Kelmscott Manor to see the fantastic redevelopment.
Councillor Suzi Coul said; "Our region offers a beautiful balance of the countryside and modernity. It is fantastic to see that these businesses are thriving and ready to provide the services we have missed in the past two years."
"I hope that residents are able to discover and continue to support the hidden treasures amongst us. There is much to do and lots of exciting things to learn in West Oxfordshire."
During the visit to Kelmscott Manor, Witney MP Robert Courts learnt all about the recent development plans and why a sustainable approach is key for Kelmscott Manor and the local surroundings.
Local MP, Robert Courts said; "We are fortunate in West Oxfordshire to be blessed with a wealth of natural beauty and attractions which draw many thousands of visitors from across the world. This tourism is of huge benefit to our local economy, supporting thousands of local jobs and a dynamic hospitality sector.
"It was a pleasure to see the new improvements which have been made to Kelmscott Manor, which is just one of many world-class attractions our area is proud to boast. West Oxfordshire is open for business and our excellent tourist industry is looking forward to welcoming people as we enter peak season in the coming months."
VisitEngland Director Andrew Stokes said:
"English Tourism Week shines the spotlight on an industry which supports millions of jobs and local economies right across England, as well as encouraging people to discover and explore the outstanding tourism products, destinations and experiences right here on our doorstep.
"This year the week is also dedicated to supporting our industry as it rebuilds, showing that it is open and ready to welcome visitors back to the experiences they have missed during the pandemic.
"We're also using the week to highlight the range and variety of jobs across the industry and to encourage people to consider a career in tourism. From tour operating, destination marketing, hospitality and hotel management to business events, visitor attractions and policy development, our people-focused sector has a huge amount to offer employees."
Contact Information
West Oxfordshire District Council Communications Team
Notes to editors
About Cotswolds Tourism
Cotswolds Tourism's priority is to grow the area's visitor economy by raising awareness of the destination and generating additional tourism spend, especially in the towns and villages. For key economic statistics and information, see www.cotswolds.com/data
Cotswolds Tourism is the official Destination Management Organisation promoting and marketing tourism across the Cotswolds. A public-private sector organisation, Cotswolds Tourism is a partnership of tourism businesses, supported by local authorities. Hosted in Cotswold District Council, Cotswolds Tourism is supported with resources by West Oxfordshire District Council, Cotswold District Council and includes strategic partners of Cotswolds National Landscape, Cheltenham Borough Council & Marketing Cheltenham, Tewkesbury Borough Council, and Stroud District Council.
For press enquiries please contact Cotswolds Tourism Sally Graff / Chris Jackson via 01285 623000 email cotswoldstourism@cotswold.gov.uk