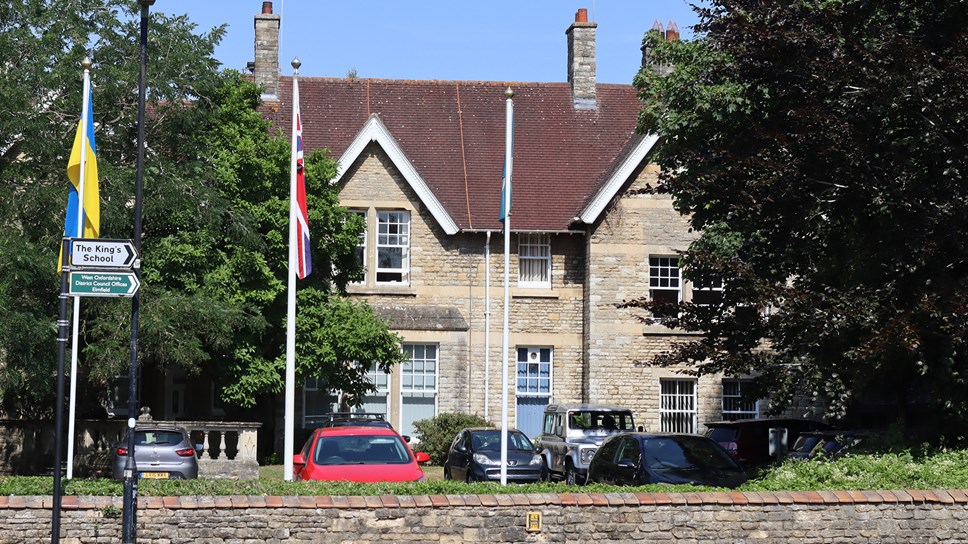 District Council to investigate solar to cut reliance on fossil fuels
West Oxfordshire District Council's Cabinet has agreed to explore the benefits of installing rooftop solar photovoltaic (PV) panels on its buildings to deliver on the Council's commitment to reduce greenhouse gas emissions and address climate change, as well as reducing energy costs.
Switching to renewable energy and away from power derived from fossil fuels is a key priority for the Council - an ambition outlined in its Carbon Action Plan.
The move could allow the Council to use renewable energy to power a proportion of the energy needed for its own offices and enable the energy generated from the panels on commercially let premises to be sold to tenants.
The installation of solar PV forms the first phase of a project looking at the wider decarbonisation of Council buildings as the authority strives to reach its ambitious net-zero target by 2030.
Councillor Andrew Prosser, Cabinet Member for Climate Change at West Oxfordshire District Council, said: "Decarbonising Council owned assets, like our buildings, and reducing our reliance on fossil-fuels for power is vital if we are to achieve our net-zero goals and make the services we provide to the public more sustainable. We hope through extending the scope of this work to fit solar panels on buildings beyond those just used by council staff, we can make green energy more accessible to others in our district with the potential to share any cost-savings."
Councillor Dan Levy, Cabinet Member for Finance at the District Council, said: "With such volatility in the energy market right now, being in a position to reduce our reliance on power supplied by the large energy companies through solar makes good economic sense. Buildings that the Council rent out currently include warehouses and industrial premises with large roof spaces which lend themselves to solar PV. The next stage will be to look more closely at the viability of the buildings under current consideration before a full business case is considered. I am really hopeful that we will end up both saving money and helping our drive to reduce carbon emissions at West Oxfordshire District Council."
The upgrades would help the Council fulfil its energy efficiency obligations to its tenants.
Like other landlords, the Council also has a responsibility to meet the Minimum Energy Efficiency Standards (MEES) for non-domestic buildings. The current regulations require that any tenanted commercial premises has an Energy Performance Certificate rating of 'E' or higher.
Currently, only commercial properties which are being rented to new tenants or which are having an existing tenancy renewed need to have an EPC of 'E' or above. From April 2023, this will be extended to all tenanted commercial properties (with the exemption of listed buildings). In its Energy White Paper, the Government has suggested that it would like to see a further step-change, with proposals that all non-domestic buildings should achieve an EPC 'B' rating by 2030 currently being considered.
Following Cabinet's agreement, the District Council will now seek to proceed with an open procurement process to obtain detailed costs, clarification on the payback period on any investment and the potential for future income generation, before a business case is taken to its Full Council to allocate the capital needed. If approved, the Council hopes the works could start as early as next summer.
The Council is undertaking an open procurement to enable local suppliers to bid for this work, as supporting local businesses is another key Council priority. Local solar panel installers interested in receiving notifications for tender opportunities are encouraged to register on the Council's procurement portal: https://www.westoxon.gov.uk/business-and-licensing/tenders-and-contracts/
Contact Information
West Oxfordshire District Council Communications Team