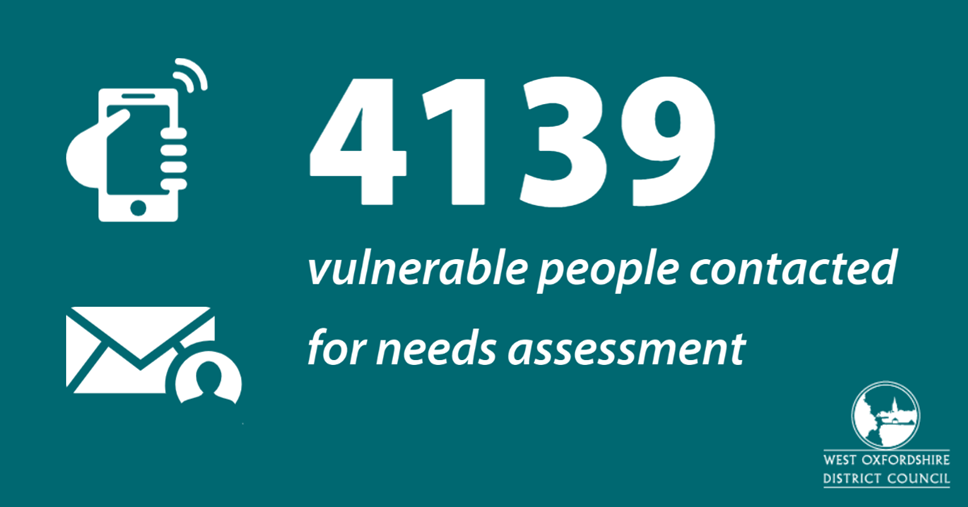 'Council Calling' campaign successfully makes contact with thousands of 'clinically extremely vulnerable' residents
West Oxfordshire District Council has successfully completed the task of checking-in with thousands of vulnerable residents to see how they have coped during the lockdown.
The 'clinically extremely vulnerable' are those deemed to be at heightened risk of Covid-19 and have been shielding as a result. The 'Council Calling' campaign has seen council staff – as well as elected councillors – making thousands of telephone calls for the past two weeks as they seek to establish contact with more than 4,000 residents across the district with the aim of checking on their welfare to see if they need assistance.
Cllr Michele Mead, Leader of the Council, said: "We set out two weeks ago to contact all of our residents that are deemed to be clinically extremely vulnerable because it is essential that no-one is left isolated or without support, especially as we are heading into the winter.
"This has been a considerable task. Making contact means that we have kept on calling and calling until we have spoken to every one of them. It is not enough to try to reach them, or to leave messages, we have actually spoken to - or corresponded via email or SMS text - with 4,139 people.
"I'm really proud of the efforts our team has made. Lots of vulnerable people already have strong support networks, with family and friends looking out for them, but we did not want to assume that was the case. We are still in the throes of a national emergency and that requires us to make an extraordinary effort – which we will continue to do until we are through this crisis."
Contact Information
West Oxfordshire District Council Communications Team