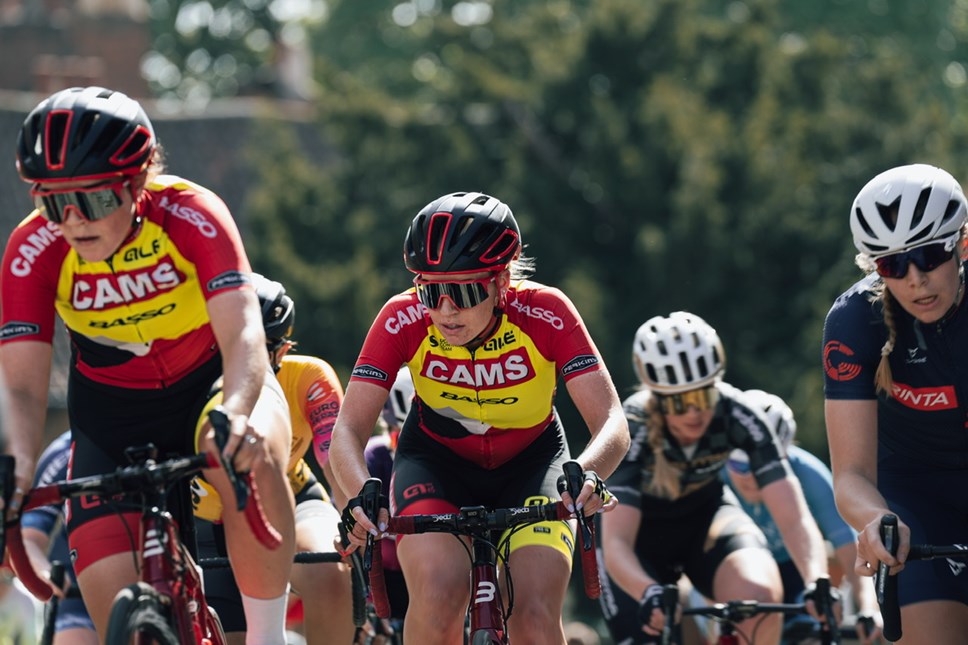 Children given chance to win VIP access to the start of Stage 6 of the Women's Tour
Children aged 5-11 years are being invited to design the starting flag for stage 6 of the Women's Tour. The winner and their family will be given VIP access to the start of the race, a signed tour shirt and will also have the honour of waving the flag to start the stage, which starts at Chipping Norton on Saturday 11 June 2022.
Entries can be submitted up until the closing date of midday on Friday 27 May, after which a winning design will be picked and produced to start the event. There is no limit to the number of entries and primary schools are encouraged to enter multiple designs from students across all age groups.
Giles Hughes, Chief Executive of West Oxfordshire District Council said "This is a unique opportunity for children to take part in this special occasion by designing the flag which kicks off the final day of racing. The flag design will be seen worldwide by television audiences, as well as the many thousands of people who will visit the District to see the start of the race in Chipping Norton.
"As a keen cyclist, I am personally looking forward to the race, and I hope that having the race here on our doorstep will encourage more people to take up cycling as a healthy passtime and a way to include more physical activity into their daily lives."
Katie Scott, professional cyclist for CAMS-Basso added, "Riding the Women's Tour last year on home roads in Oxfordshire was one of the highlights of my racing career so far, so it's brilliant to see the race is back in the region again. The support we received from the roadside was something else.
"I love that the local community gets so involved and this competition is a brilliant and fun way for children here to get creative! I can't wait to see all the designs and hopefully see families out waving their flags and cheering us at the race next month."
To enter this fantastic competition, either print the template below and draw and colour your design or if you don't have a printer at home you can copy the template by hand on an A4 sheet of paper. To submit your entry please email a photo or the original document to womens.tour@westoxon.gov.uk ensuring that your age and name are clearly included in the email.
https://www.westoxon.gov.uk/media/y5gomgo4/flag-template.pdf
Entries should be related to cycling or the landscape along the route. This could be a landmark, village or the beautiful West Oxfordshire landscape.
Contact Information
West Oxfordshire District Council Communications Team
Notes to editors
Photo Caption
Katie Scott, professional cyclist for CAMS-Basso competing in the 2021 Women's Tour. Photo credit: Harry Paine
Notes to editors
About the Women's Tour
Stages:
Stage one Colchester to Bury St Edmunds Monday 6 June
Stage two [to be announced] Harlow to Leighton Buzzard Tuesday 7 June
Stage three Tewkesbury to Gloucester Wednesday 8 June
Stage four [to be announced] Wrexham to Welshpool Thursday 9 June
Stage five Pembrey Country Park to Black Mountain Friday 10 June
Stage six Chipping Norton to Oxford Saturday 11 June
Created by SweetSpot Group in 2014, the Women's Tour is the UK's first international stage race for women, bringing the world's top riders to compete in Great Britain as a part of the UCI Women's WorldTour.
The race, which has been won by the likes of Marianne Vos (2014), Lizzie Deignan (2016, 2019) and Demi Vollering (2021), attracts an annual roadside audience of 300,000, as well as over three million fans through linear and online platforms.
Follow the Women's Tour on Twitter (#WomensTour), Facebook, and Instagram or via the event's official website at womenstour.co.uk.
For further media information please contact Peter Hodges (07970 526 519 / peterh@thetour.co.uk) and Nick Bull (07977 151 184 / nickb@thetour.co.uk).