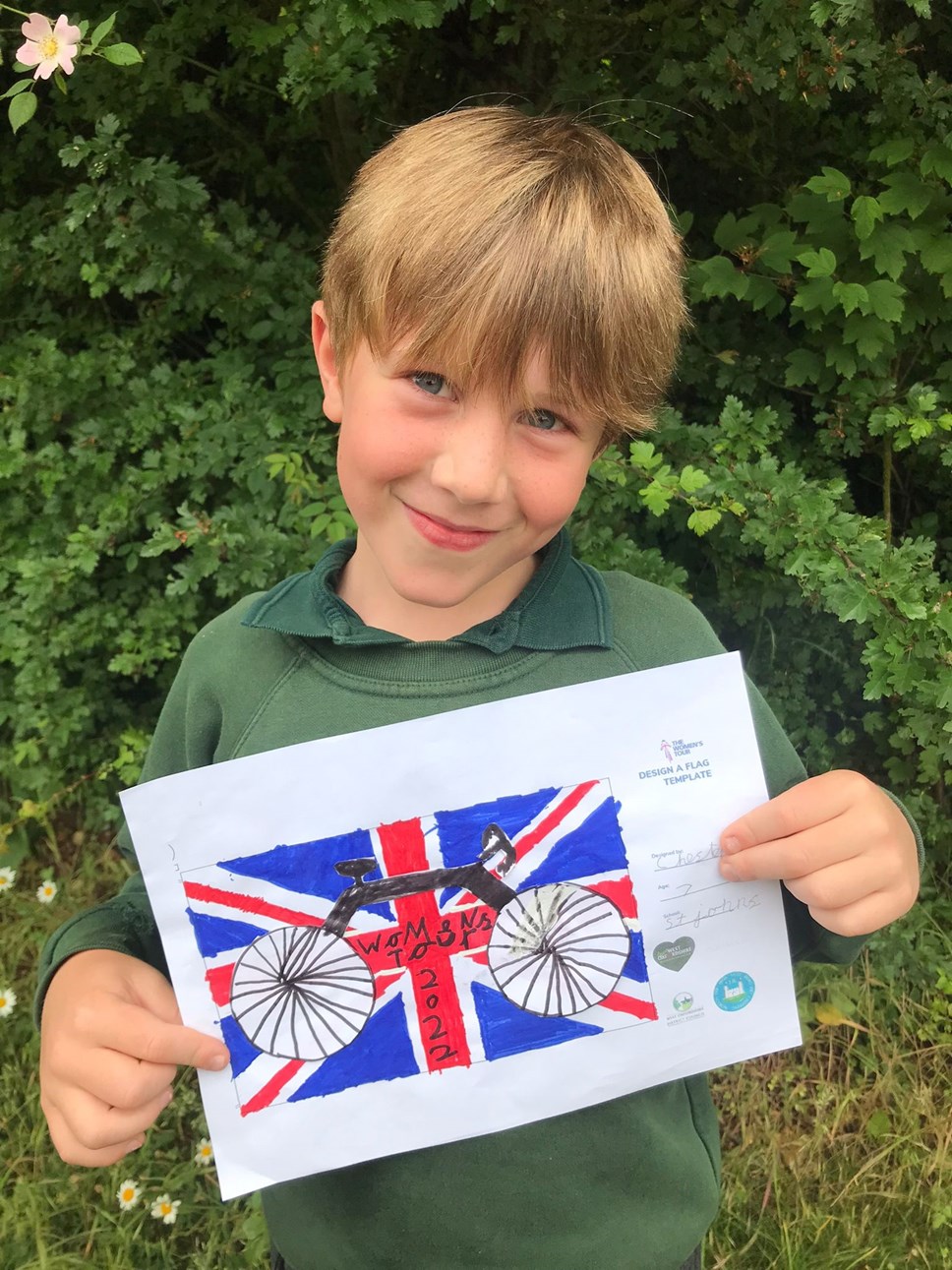 Carterton pupil wins competition to raise their flag to start Stage 6 of Women's Tour
Carterton pupil, Chester Youd, aged 7, from St John the Evangelist CE Primary School, has won the Council's competition to design the flag that will start stage six of the Women's Tour. The race starts at 11am in Chipping Norton on Saturday 11 June 2022.
The competition was run by West Oxfordshire District Council with entries being judged by cyclist Katie Scott, who is a local professional rider from Faringdon and is competing in the race on Saturday.
Chester and his family will also have VIP access to the start of the race and a signed tour shirt.
After all the fun of the Jubilee bank holiday weekend, flags and bunting will be kept up and at the ready across Oxfordshire for the prestigious cycle race. The cyclists will be lining up to start from Chipping Norton before racing through Charlbury, Burford and Carterton, then heading to Abingdon before their final sprint for the line in Oxford City.
The young artist's creative design has a bike set against the Union Jack which will be used to create a full size flag to start the riders off. Chester had tough competition not only from his older brother, Walter, but also from local children in Chipping Norton, Oxford and Carterton.
Chester said, "It's amazing, just amazing! I entered this because I adore cycling and I watch the Tour De France as well. I am speechless because I've never won anything before, it's a brilliant first win for me!"
Team CAMS-Basso cycling star Katie Scott said, "It was really tough to decide on a winner as all the flags were so good. In the end, I chose Chester's fun design. In this Jubilee year, it just had to be this one! I can't wait to see the flag in real life, waving us off at the starting line of the final stage."
Councillor Joy Aitman, Cabinet Member for Stronger Healthy Communities added, "I encourage families and schoolchildren to design their own flags and get out to cheer on the competitors along the route between Chipping Norton and Oxford.
"The race coincides with National Bike Week and I hope it will inspire residents to take up cycling as a fun, healthy, green and sociable way to travel. Residents can learn more about cycling on the day where there will be stands in the tour village in Chipping Norton."
Chipping Norton Town Council and volunteers will continue to celebrate on the day once the riders have started Stage 6, with further cycling activities. This includes a 'tricky trail' for people to practice their bike skills, a beginners guided ride led by Windrush Bike project and local business, TY Cycles, will have a range of bikes to try out including E Bikes. There will also be an opportunity to join in guided rides for women, and an off-road ride to Charlbury and Long Hanborough.
Around 100 pro-cyclists – accompanied by support vehicles – will arrive in Chipping Norton to warm up and prepare ahead of the race, creating a great opportunity for residents and cycle enthusiasts to get up close to the professional teams. The Women's Tour is Britain's longest-running professional women's race and part of the prestigious UCI Women's World Tour series.
Contact Information
West Oxfordshire District Council Communications Team
Notes to editors
About the Women's Tour
Created by SweetSpot Group in 2014, the Women's Tour is the UK's first international stage race for women, bringing the world's top riders to compete in Great Britain as a part of the UCI Women's WorldTour.
The race, which has been won by the likes of Marianne Vos (2014), Lizzie Deignan (2016, 2019) and Demi Vollering (2021), attracts an annual roadside audience of 300,000, as well as over three million fans through linear and online platforms.
Follow the Women's Tour on Twitter (#WomensTour), Facebook, and Instagram or via the event's official website at womenstour.co.uk.
For further media information please contact Peter Hodges (07970 526 519 / [email protected]) and Nick Bull (07977 151 184 / [email protected]).
For more information on events on the day of the race : www.transitionchippingnorton.org/cycling or www.tiny.cc/ccwt22activities