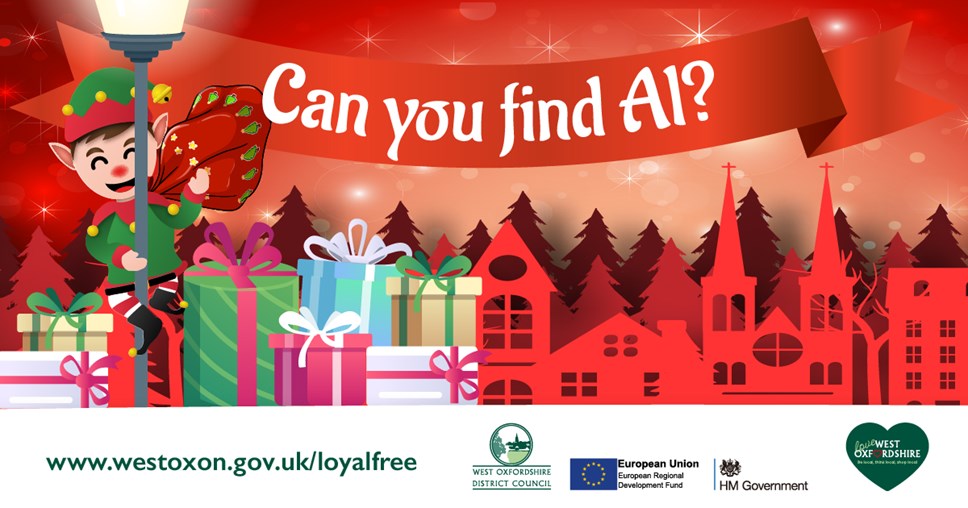 Can you find Al?
Parents and children in West Oxfordshire are being invited to track down one of Santa's elves for a chance to win a prize, as West Oxfordshire District Council launches its #FindAl campaign to encourage people to shop locally this Christmas.
The campaign will run from 1st-30th December with trails to follow in Carterton, Witney and Chipping Norton. If you see Al in any of these locations, scan the QR code for information on how to enter.
Cllr Suzi Coul, Cabinet Member for Finance, said: "Most of us love Christmas, I know I do! After the strange time we all found ourselves in last year, Al the Elf is a small part of bringing some Christmas magic back to our local towns.
"I hope that as many people as possible Find Al, while also supporting our wonderful local businesses in the run up to Christmas. There are also lots of other activities on the LoyalFree app to give children and adults alike a bit of Christmas spirit."
Al the elf will be displayed on lampposts around the centres of the three towns. All you need to do is find all ten, go to the LoyalFree page on our website where you will find a form to submit your entry. You will then be entered into a prize draw to be drawn in the New Year. We are also giving a prize for the best 'selfie' shared on Facebook, Instagram and Twitter using the hashtag #FindAl.
#FindAl is being rolled out as part of the Love West Oxfordshire LoyalFree campaign which enables businesses to add their Christmas and New Year offers to the LoyalFree app. The app is supported by over 60 local retailers with offers such as discounts on wine, beauty treatments, free coffees, meals out, electrical goods, books and even discounts on sports club membership.
Residents who download the app for West Oxfordshire will also be able to access deals across the rest of the country via the wider LoyalFree network.
The app also provides trails that give users the opportunity to explore West Oxfordshire in a new way with routes like the Downton Abbey Trail and Witney Historic Sites trail giving an extra dimension to days out.
For more information on our #FindAl campaign and the LoyalFree app please visit www.westoxon.gov.uk/LoyalFree
Contact Information
West Oxfordshire District Council Communications Team
Notes to editors
LoyalFree is a mobile phone app which replaces the act of stamping a physical loyalty card. Customers collect points until they have enough to claim a reward. At the same time, customer data is pulled into a dashboard and provides information to businesses which enhances relationships with customers.
The LoyalFree app is available on Apple (iPhone and iPad) and Android devices that have cameras. If GPS is enabled on the user's device, the app will automatically show offers from the location of the user.
Users download the mobile app to find nearby deals. At the point of sale they scan the merchant's QR code and receive their points or discount instantly.
When enough points have been collected users are notified within the app. The next time they scan the retailer's QR code they receive the item and start collecting points once more.
Funding for the project comes from the European Regional Development Fund (ERDF) as part of its Welcome Back Fund.