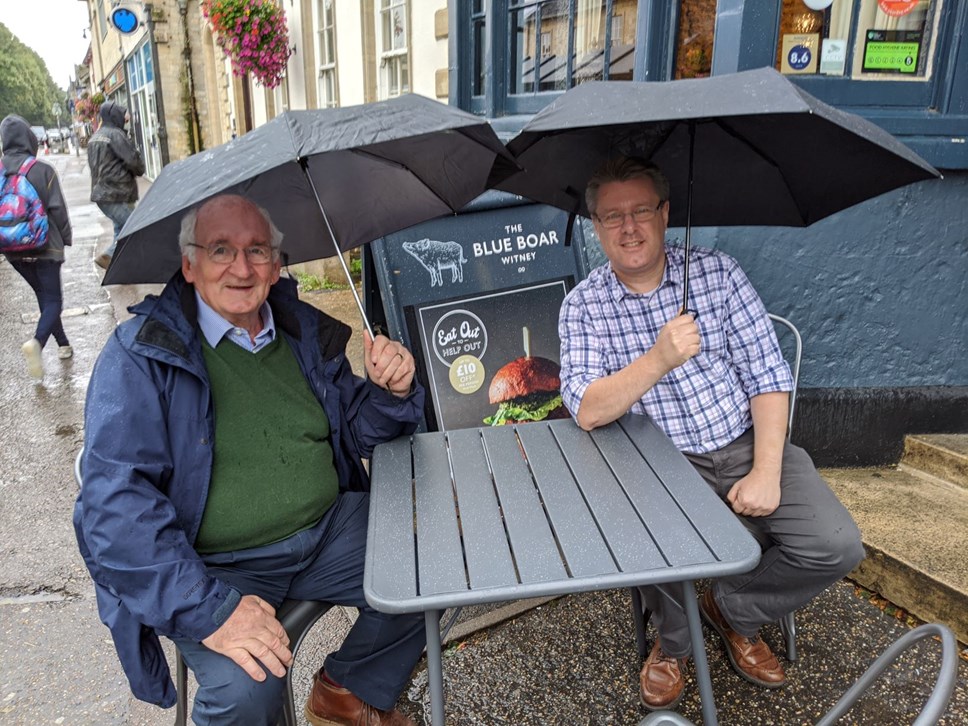 Businesses sign up for smoke-free pavement licences
Businesses applying for pavement licences are being encouraged to make them smoke-free zones.
The Council is working with applicants to incorporate a voluntary no smoking policy on their outside tables and chairs when the free licence is granted.
This week, Witney's Market Square was licensed with the Blue Boar pub and restaurant, the Corn Exchange and Smarts fish and chip shop all agreeing to share the area and ensure it is a no smoking zone.
West Oxfordshire is believed to be the first council in the county to introduce the initiative following the introduction of Government legislation, the Business and Planning Act which became law last month and streamlined the application process for licences to place tables and chairs outside pubs and cafes.
Cllr Norman MacRae, Cabinet Member for Licensing, said: "The new Act is really helping hospitality businesses recover from the effects of Covid-19 and allow customers the option of sitting outside in the fresh air.
"It makes sense that this seating is no smoking, as it would be inside, for everyone's comfort and good health."
Phil Henstridge, General Manager of the Blue Boar, added: "Pavement licensing is a real opportunity to help our business through these difficult times. We welcome initiatives such as this even if the British weather is against us sometimes!"
The move is being supported by Oxfordshire County Council which, through its Smoke free Oxfordshire 2025 campaign, has set out to reduce the overall prevalence of smoking in the county to below five per cent by 2025. The aim is to inspire the first smoke-free generation in Oxfordshire.
Ansaf Azhar, Director of Public Health at Oxfordshire County Council, said: "We fully support West Oxfordshire's commitment to creating smoke-free environments and removing the risk of second-hand smoke for people wishing to enjoy outdoor spaces."
Businesses can apply for a pavement licence at www.westoxon.gov.uk/pavementlicence
Contact Information
West Oxfordshire District Council Communications Team