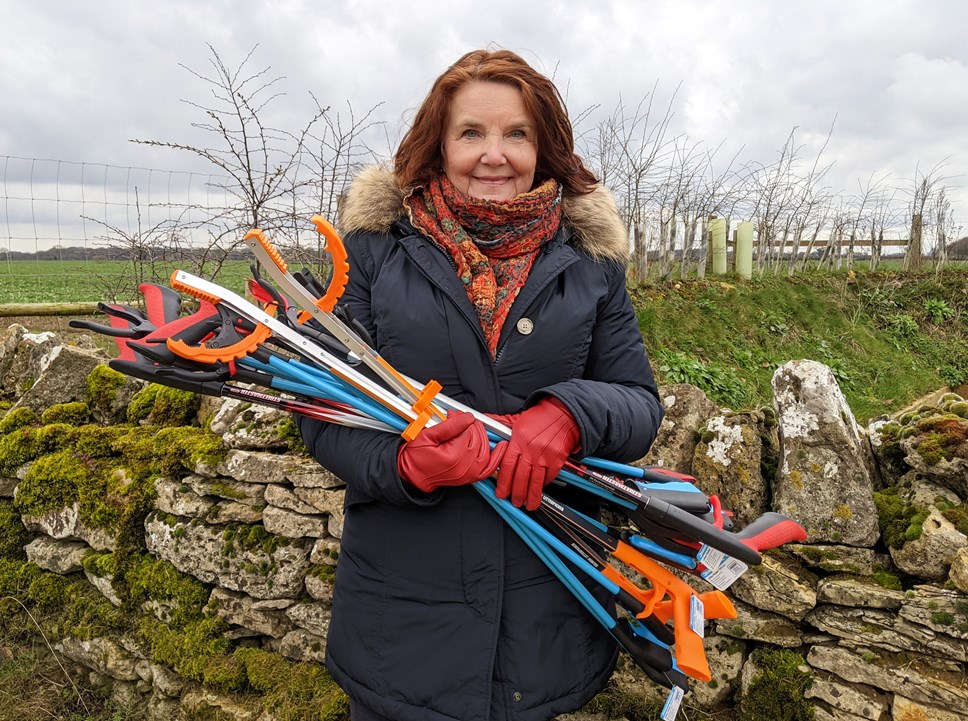 Bag a grabber! Support this year's Great British Spring Clean
Residents, community groups and local parish and town councils wanting to clear up their local area will be able to borrow litter picking equipment from West Oxfordshire District Council for as long as they need it.
The District Council is launching a 'giveaway' of hundreds of litter grabbers to coincide with this year's national Great British Spring Clean (17 March to 2 April), the flagship event of environmental charity Keep Britain Tidy. The campaign once again calls on people in the UK to join together to pick up litter from the streets and the countryside.
The Council has recently published its Council Plan for the district for 2023 to 2027, outlining its five key priorities, including its vision for creating a better environment for people and wildlife.
In addition to litter pickers, residents and groups can request an initial supply of sacks from the District Council to get them started.
Councillor Lidia Arciszewska, Executive Member for Environment at West Oxfordshire District Council, said: "We're delighted to be supporting the Great British Spring Clean yet again. This year we wanted to make our support even greater by not only picking up the bags of collected litter and offering kit on a short-term loan - which we are continuing to do - but also by giving councils and residents the option of hanging on to the equipment on an extended basis so those with a passion for picking up litter can continue to do so safely.
"Whether an individual or a group, anyone will be able to order a grabber and keep it for as long as it's needed. We only ask that if it's no longer required the kit is returned to us so it can be used by others who may wish to borrow it.
"The annual Great British Spring Clean is a wonderful awareness-raising event, rallying people into action. Sadly litter is a year round problem which blights our environment, endangers wildlife and is a major source of pollution as well as costly to clear. By providing litter grabbers on a long-term basis we hope to support those 'litter heroes' in our communities who freely give their time, throughout the year, to make our district a safe and beautiful place to live."
Keep Britain Tidy estimates that £30 for every household in the country is spent on clearing the nation's litter problem.
To request equipment, either for a one-off event or for longer, contact the Council's customer services team on: customer.services@westoxon.gov.uk. Kit will be made available for collection from the District Council's Welch Way Town Centre Shop, Witney.
Anyone wishing to take part in this year's Great British Spring Clean event can find out more at: https://www.keepbritaintidy.org/get-involved/support-our-campaigns/great-british-spring-clean
Contact Information
West Oxfordshire District Council Communications Team