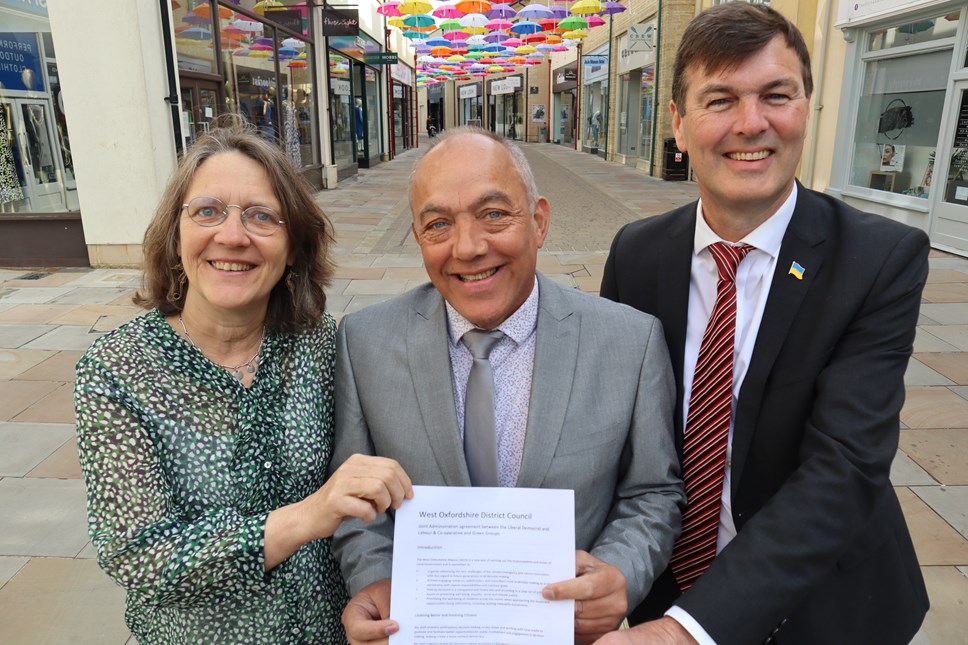 Alliance administration to continue at West Oxfordshire District Council
The alliance in control of West Oxfordshire District Council have reaffirmed their commitment to working in partnership to lead the council ahead of the Annual General Meeting next week where official council roles are voted in.
The Liberal Democrat, Labour and Green groups agreed to form an administration to run the Council in 2022 known locally as the 'West Oxfordshire Alliance'. This included an Executive made up of councillors from each of the three parties who ran the Council last year.
At the local elections on 4 May 2022, no single political party gained an overall majority. A total of 25 of the 49 seats are required to form a majority and no one individual party reached this number.
The split of councillors by party following the election was:
Liberal Democrats - 18
Conservative - 17
Labour/Labour and Co-operative - 10
Green Party - 3
Independent - 1
Councillor Andy Graham, Leader of the Council, said; "I am really pleased to be continuing to run your council as part of an alliance of councillors from across the political spectrum to get the best for West Oxfordshire.
"We set an ambitious council plan last year which we will now be pushing forward to deliver on behalf of residents and businesses in the district.
"Over the next year we will be focussing on delivering a Local Plan in partnership with residents that really understands how we want the future West Oxfordshire to be along with action for more affordable homes, tackling the climate emergency, boosting our local economy, supporting our communities and improving our services.
"We made great progress last year and I am confident that together we will continue to achieve great things for the area we all love while also providing the council services we all expect."
Residents will be able to attend the Annual General Council meeting in person at the Council offices in Woodgreen. The meeting will be at 2pm on the 24 May and the council will agree the new chair, vice chair and committee appointments along with announcing the leader and executive members for the council.
Residents can view the full election results and look up their local councillor on the council website.
ENDS
Contact Information
West Oxfordshire District Council Communications Team
Notes to editors
Pictured L to R
Councillor Rosie Pearson (Green Party), Councillor Andy Graham (Liberal Democrats) and Councillor Duncan Enright (Labour and Co-operative)